Map of Andros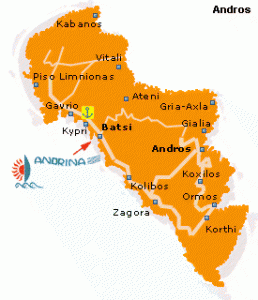 As seen in the Andros map,  Andros Island is a popular vacation resort, due to its wonderful natural beauty, its culture and its close proximity to Athens. One can sail by ferry to Andros Island from the Port of Rafina. Ferries leave four times a day from Rafina to Gavrion and takes 2 hours. On Andros Island, visitors will find an amalgam of impressive features, such as beautiful beaches, significant archaeological and historical sites, lush valleys, endless olive tree plantations, breathtaking gorges and crystal clear springs. On this page you are provided with a map of Andros, travel information about the settlement of Batsi, Andros beaches and Andros sightseeing.
Andros Greece - Andros Island Sightseeing & Attractions
Throughout Andros Island there are many archaeological and historical sites, as it has been an important cultural center of Greece from ancient times. With a good map of Andros Island, you can tour all the impressive sites. While vacationing in Batsi, we suggest you visit the Monastery of Zoodochou Pigis and the Archaeological Site of Ipsili.
In Chora, the capital of Andros Island, we suggest visiting
the Churches of the Assumption of the Virgin, Agia Tsoura, Agios Georgios and Panagia Theoskepasti
the Kambanis Fountain
the Tourlitis Lighthouse
the Museums (Archaeological, Folklore, Maritime and Modern Art)
 Worth visiting in Andros
the Sariza Spring in Apikia
the Tower of Agios Petros and the lighthouse in Gavrion
the Dionysus Springs and the Church of Taxiarchis of Melidas in Menites
the Ancient City of Andros, the Geometric Settlement of Zagora and the Archaeological Museum in Palaiopolis
the Epano Kastro and the Folklore-Ecclesiastical Museum in Ormos Korthiou
the Church of Taxiarhis in Messaria
the Leontos Bridge and the Bisti-Mouvela Tower in Stenies