How to get from Athens to Milos
If you are looking on how to get from Athens to Milos island in Greece…look no further!
So…I am pretty sure you are lost and don't know how to get from Athens to Milos island in Greece, right?
To make it easy for you I have written this guide to help you out.
REAL QUICK:
Best Way To get From Athens to Milos: By Plane (about 30mins)
Good to Know for tickets to Milos: There is one (1) airport in Milos (code: MLO)
Best Website to check ferry prices and Timetables: Let's Ferry
Conventional Ferry to Milos (Slow Ferry to Milos) 5 hours when the link is direct and 7 hours with stopovers
Highspeed Ferry to Milos (Fast Ferry to Milos): travelling time is between two and a half (2.5) and four and a half (4.5) hours.
You can book your ferry online but you always have to get the ticket printout from the ferry kiosk in Piraeus port (Athens port) or any other greek travel agency (it's the greek law)
Best Way to go from Athens Airport to Athens main port (Piraeus) to take any ferry is by taking the Athens Airport Bus X96 (X96 Bus Route – X96 Bus runs every 20-30 mins) – X96 Bus ticket costs 6 euros (adult) and 3 euros (kids) or buy an ATH.ENA Card
Direct Flights from Athens to Milos: about 30 mins on the air
Milos Airport (code: MLO)
Cheapest flights from Athens to Milos: book plane
Ok..so let's get started with all the travel options from Athens to Milos.
You really have 2 options to go from Athens to Milos:
But which one is really the Best Option?
My suggestion: go to Milos by plane.
Why: because it's generally much faster and simpler than taking the ferry to Milos
However, you can also take the ferry which can be a very interesting alternative option for several reasons (see below Option 2).
OPTION 1: From Athens to Milos by plane (Kiwi.com offers all the options)
That's obviously the quickest and most expensive option.
It takes about 30 minutes by plane to be at Milos's airport and it definitely worths it.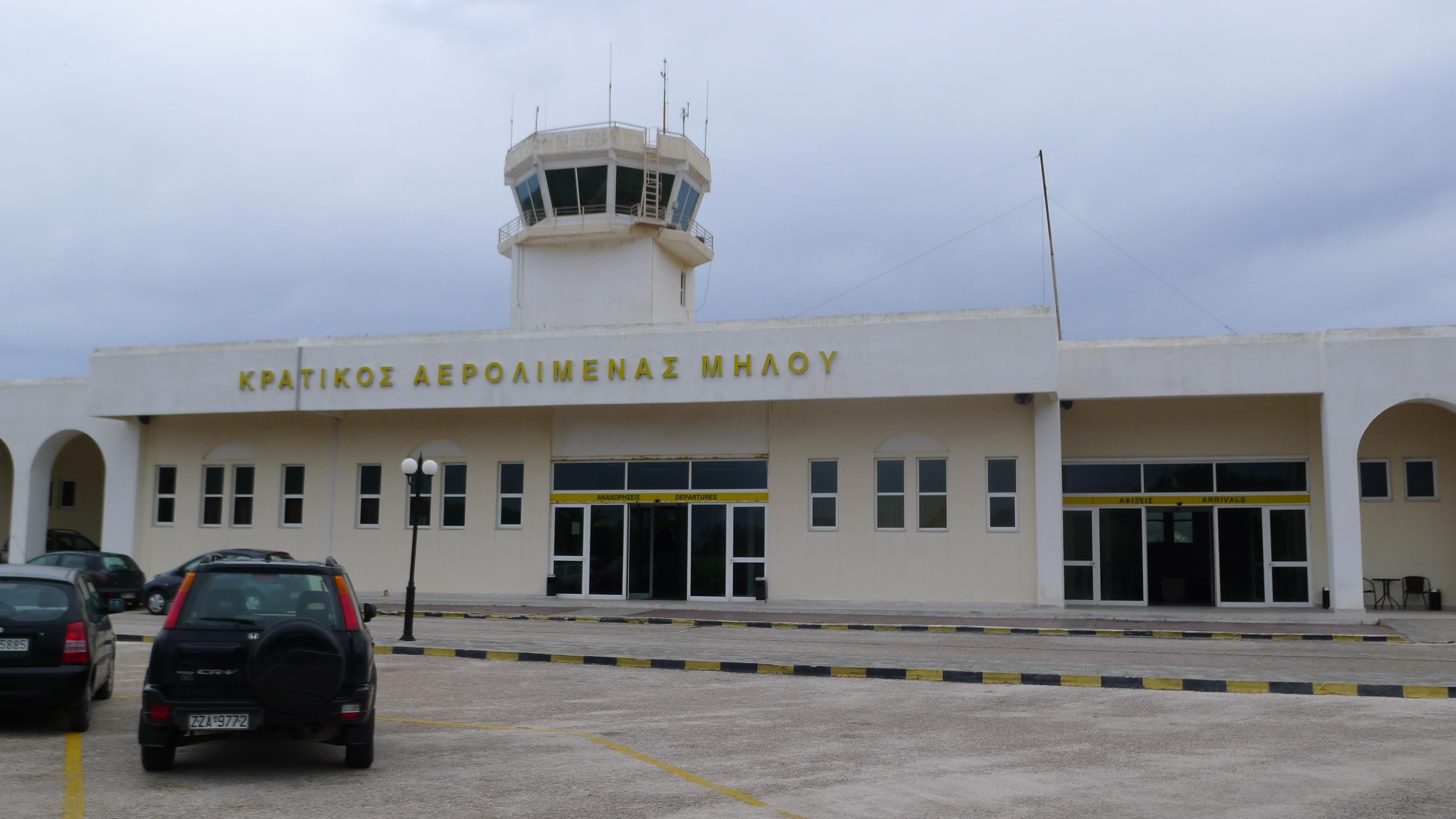 Milos Airport official website is: http://www.ypa.gr/en/our-airports/kratikos-aerolimenas-mhloy-kaml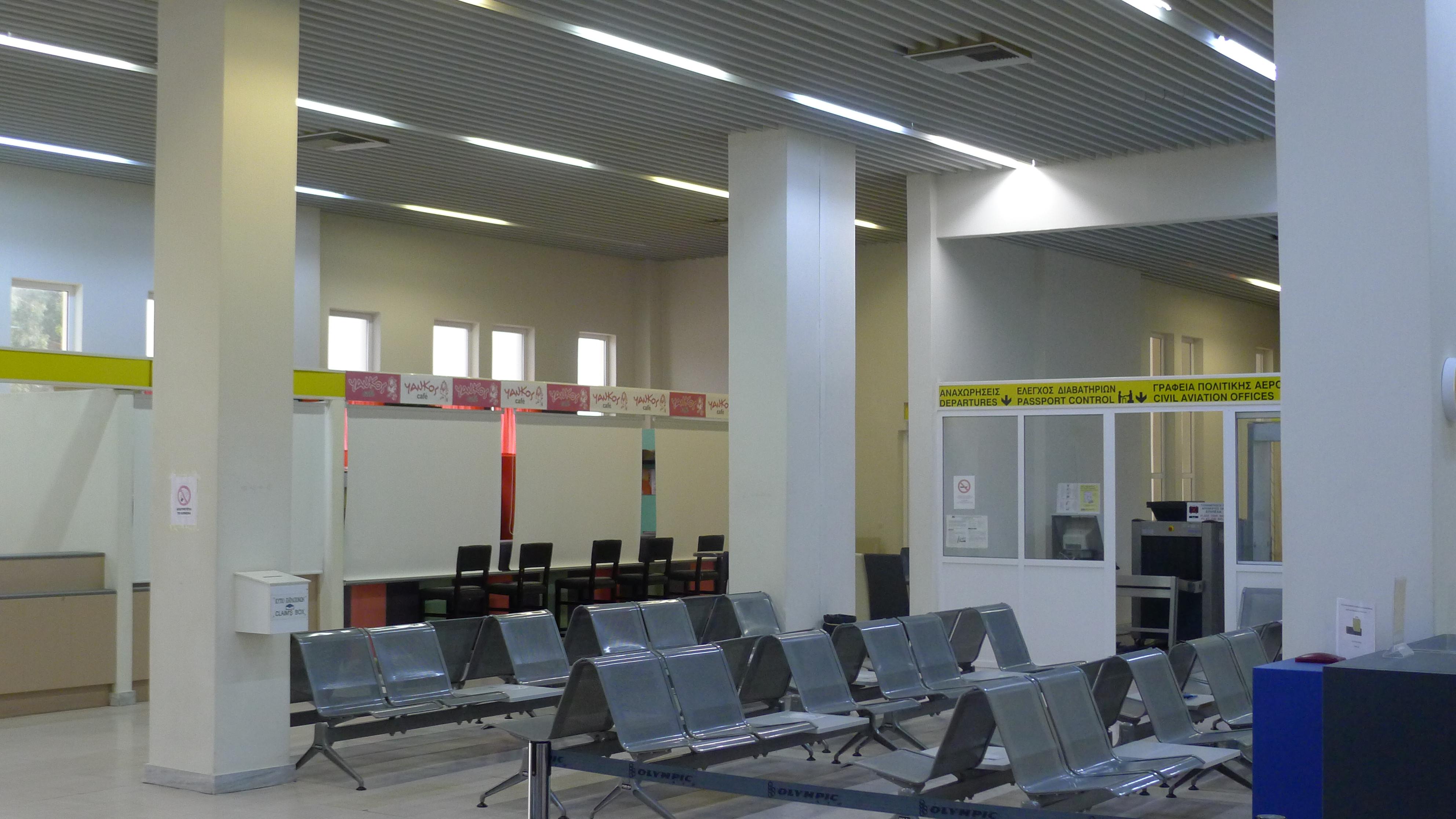 The best and cheapest website to book or search for flights from Athens to Milos is: Kiwi.com
Athens Airport Code is : ATH  (Athens)
Milos Airport (code: MLO)

If you book your tickets well in advance (3-6 months) you could probably find some very good deals with return tickets.
Milos is an extremely popular destination in Greece, so everything has to be booked well in advance.
So…let's see the pros and cons of getting to Milos (from Athens) by plane:
Pros (of going from Athens to Milos by Plane):
So much faster than the ferry (about 30 mins on the air)…you can literally save a whole day and spend it in Milos instead
If you have just landed at the Athens airport you can just wait there till your connection flight to Milos departs
Cons (of going from Athens to Milos by Plane):
it can be much more expensive
the flight times to Milos may not be convenient and you might have to spend some boring hours at the Athens airport
Direct flights to Milos (from other European cities):
There are direct flights from European cities to Milos in 2018
Bottom line:
If you plan it properly and you book your flight tickets to Milos well in advance, then that's the best option. However, getting the ferry can also be a very good and interesting option (see below).
OPTION 2: From Athens to Milos by ferry
Going to Milos by ferry is the second option you have and it can be a very nice experience.
But before taking the ferry, you have to go to the Athens ferry port which is called Piraeus.
How do you go from Athens Airport to the Athens Ferry Port (called Piraeus or Pireus) ?
Athens Airport to the Athens Ferry Port Option 1 : bus X96
The easiest and cheapest option is by taking the bus X96 that stops just outside of the Athens airport:
It takes between 50 mins to 80 mins (depending on the traffic) to go to the Athens ferry port (Piraeus) and the X96 bus route to Piraeus ferry port is the following:
Ferries to Milos depart from Port Gate Ε1, so you have to stop at the bus station : STATION ISAP (which is also a metro station).
Or in greek : ΣΤΑΘΜΟΣ ΗΣΑΠ
In case you feel lost you can just ask the bus driver (they always speak english)
But in reality you will find some brand new GPS screens showing you where you actually are:
The X96 bus runs 24/7 and there is a bus every 30 mins roughly (however do not expect it to be always on time).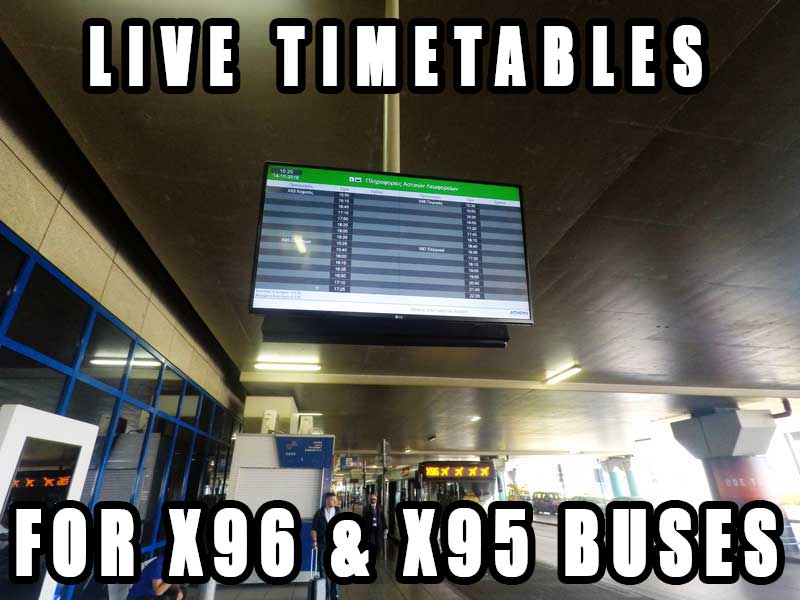 Click here to see all the stops of X96 Bus (from Athens Airport to Piraeus Ferry port to Milos) and the timetables
For the X96 bus, you have to buy tickets from a kiosk which is just outside of the bus stop (and also just outside of the airport, just follow the "Bus" signs in the airport).
This is actually how get to those bus ticket kiosks outside of the airport:
The bus ticket is a small piece of paper that you have to put in the orange slots which are inside the bus (you will hear a "click" noise once you put the ticket in…which is basically the printing/stamping of the date and time).
For adults the ticket costs 6 euros and for kids (under 6) it costs 3 euros: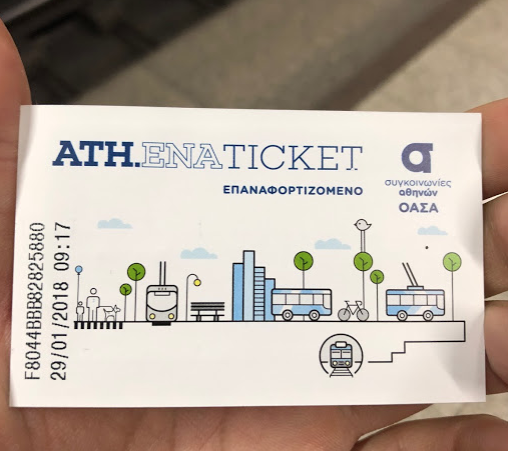 A TIP FOR BUS TICKETS IN ATHENS:
There is also a mobile application with which you can buy your bus tickets developed by Transport for Athens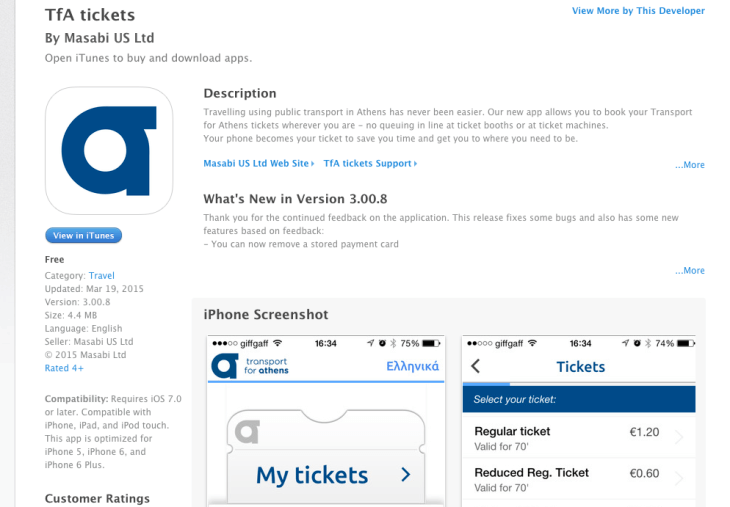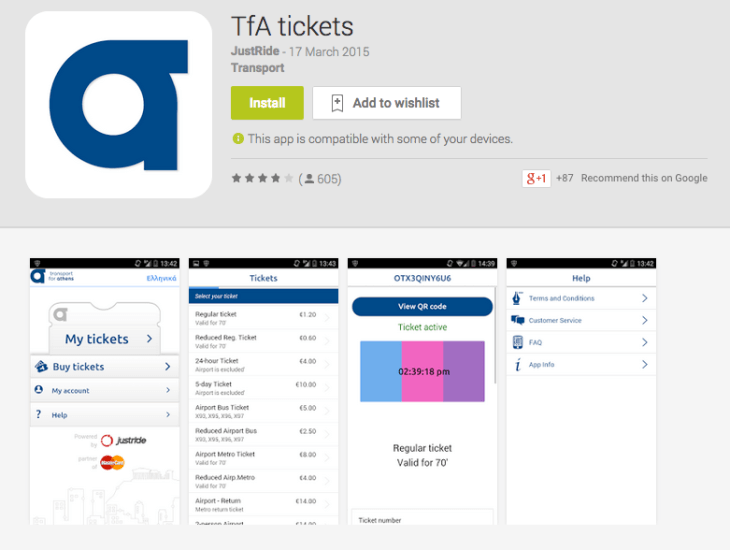 Click here to download the Bus Tickets for Athens App for Android
Click here to download the Bus Tickets for Athens App for iOS
(you really don't have to worry at all about the bus tickets if you do that…and you can pay by any card!)
The X96 bus is pretty fast and it costs only 6 euros!
BE CAREFUL!
Sometimes the Athens Airport Buses say: "AEROLIMENAS-PEIRAIAS"
Don't get confused. This is a greek-lish version of saying: "Airport – Pireaus" so it's the same really…
Here is a video showing how to get to the bus and when you arrive at the piraeus port
Athens Airport to the Athens Ferry Port Option 2 : taxi
Baggage cost you extra, there's a surcharge for the airport and the journey takes at least 1 hour (30 km between the airport and the port) so the taxi fare can add up to a quite high amount. The taxi fare ads up to about €50, depending on the traffic. You also have to be careful to avoid the scams (you really don't want to pay 10 times more than the regular fare).
Athens Airport to the Athens Ferry Port Option 3 : Metro (train)

Line 3 started operating in 2004 and links the airport to Monastiraki where you switch to Line 1, taking you to Piraeus. The journey time between the airport and the port is about 75 min. The metro fare for the entire length of the trip ads up to €6.
How do you go from Athens airport to Central Athens ?
First of all you have to go from the Athens Airport to Syntagma Square (the most central point in Athens) either by taking the metro from the airport (it's actually overground for some stations and then it goes underground) or the bus X95 which will take you to Syntagma Square within 30-40 mins.
This is Bus X95's route (from Athens airport to Syntagma square – central Athens):
You can take the X95 Bus just outside from the airport.
If you want, you can also take the metro (blue line or line 3 to Aghia Marina):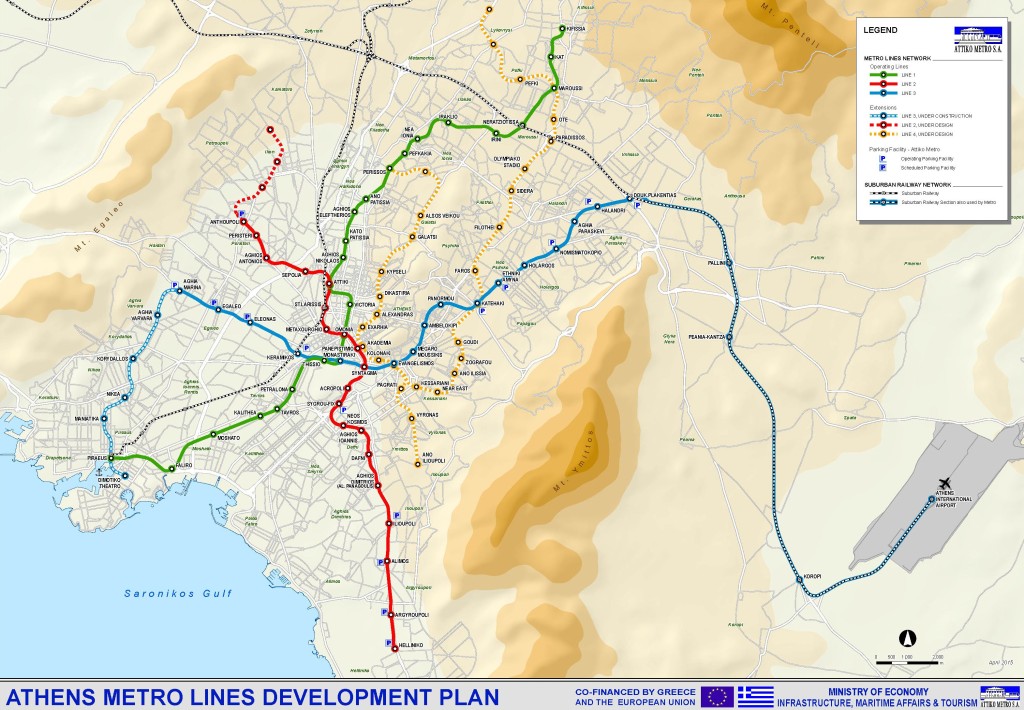 Where can I check the Athens metro last trains and schedules?
Click here to check the timetables for Athens metro and see if you can catch the last one if your flight arrives too late!
How do you go from Central Athens to Piraeus ferry port ?
The easiest way is by taking the metro green line (or Line 1).
It takes about 30 mins from Monastiraki Square or Omonoia Square at central Athens and the metro station at Piraeus ferry port is just outside Port Gate E1 (the one for the ferries to Milos).
What are the available ferries from Athens to Milos for 2018?
Τhere are 6 ferry options from Athens to Milos :
How long does it take to get from Athens to Milos?
If you select to visit Milos with the conventional ferry your trip will take about 5-7 hours. Milos can be reached from Piraeus by ferry 1-2 times per day in winter, increasing to 4-6 per day in summer.
Is there a high speed ferry between Athens and Milos?
Yes, there's a a Highspeed ferry 3.5-4.5 hours to get from Athens to Milos depending on how many ports the ferry will call at on the way.
How much does it cost to get from Athens to Milos by ferry?
The price depends on where you prefer to stay (deck seat, cabin, lounge) and the type of ferry you are taking, as well as the port you'll be arriving in (although the differences are not significant). Also, you should consider that several ferry companies serve the route so there's also a price difference between the same type of seat on ferries run by different companies. At the time this article was written and probably for the whole 2018 the cost is 32 euro for the slow ferry and 55 euro for the highspeed ferry ferries.
BEFORE YOU TRAVEL ALWAYS CHECK THE LET'S FERRY WEBSITE FOR THE AVAILABLE OPTIONS AND TIMES!!!!
Where can you book ferry tickets from Athens to Milos?
Booking in advance a Ferry ticket to Milos is always good, especially during high season as ferries might become full (that's the case in July and August).
It's not that you won't find a ticket but it is more of securing a good seat or a cabin or a vehicle spot (if you have a car).
But…you can always book them online (just to be sure) on the Let's Ferry website (even if you don't book it there you can always check the timetables of the ferries on the dates you want to travel).
Another option is to have your travel agent book them for you, but they will need to contact a Greek travel agency. So an easier option is to contact a reliable Greek travel agency yourself and book your tickets via them.
If you have some time available between your arrival in Athens and the time you planned to take the ferry to Milos, you can buy the tickets directly in the port of Piraeus, at Port Gate Ε7. Unless you are traveling during the peak season or national holiday weekends, you shouldn't worry about booking in advance, especially if you plan to use a deck seat.
BE CAREFUL THOUGH: According to the law the tickets have to be printed out only by certified travel agencies or the Ferry companies , so even if you book it online you have to visit a travel agent or the kiosk at the ferry port to take the print outs anyways (not a big deal..everyone is doing that anyways).
However, the last years people tend to buy ferry tickets online for Milos.
You can always do that from Let's ferry website or but as I said previously you always have to take the ticket printout from a travel agent in Greece or the kiosk which is usually outside of the ferry that you are boarding on.
Important note:
Sometimes the ferry schedules available online are not very accurate. It's not the websites' fault at all as the ferry companies submit their schedule to the Ministry of Merchant Marine weekly. Hence the ferry schedule might change from week to week. Your best bet is to check this link the day before departure (or the day of before) just to make sure things haven't changed.
Recommended Websites for Hotels, Ferries, Flights and Car Rentals for Milos:
HotelsCombined.com is the website with the most available rooms and Private Villas in Milos (more than Airbnb)
Let's Ferry is the best website to book your ferry tickets or check the timetables for Milos & all greek islands
Kiwi.com has all the available flights from Athens or other European cities to Milos (Milos Airport Code: MLO)
P.S. – If you've found this article helpful, please consider booking via the links here as it helps keep the website community supported and advertiser free. All the companies are ones we use ourselves in our own travels. If you have any questions, email us!