Lia Beach Mykonos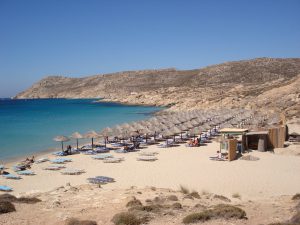 Lia Beach Mykonos (Liasti Beach) is one of the most beautiful beaches in Mykonos with exotic waters and great environment, situated 14km from the Chora in the South of the Island, near Kalafatis. Protected by the summer winds, the clear deep waters of the sandy bay are a great option for those who wish to relax comfortably under an umbrella with a sun bed. Enjoy food and drinks at Lia's only beach restaurant.
Lia beach is well organized with colorful umbrellas, sundecks and other useful facilities. Even though it is considered a rather quiet beach for the standards of Mykonos, Lia has been a favorite place for this reason. Its blue waters and the white sand create the ultimate combination for a swimming paradise. The beach is surrounded by rocks making it a great spot for diving and snorkeling. The beach is easily reachable if you pass from Ano Mera and then follow the signs.
Furthest from town and accessible only by private vehicle or taxi, Liasti beach is a perfect place to escape the crowds. Its undeveloped state and single restaurant make it possible to enjoy the natural cycladic landscape surrounding this beautiful beach.
There are two restaurants nearby and a beach bar with various snacks and drinks. The hills that surround the beach are mostly bare and the natural landscape gives you the feeling of total freedom. You can also find various accommodations in the area of Lia.
Check all Mykonos beaches with videos and photos