Mykonos Restaurants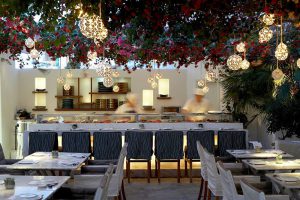 Before listing Mykonos restaurants it must be pointed out that Mykonos Island has some of the highest quality restaurants in Greece: there is almost anything for you to taste including fish tavernas, foreign-cuisine specialists, garden restaurants. Here is a sample list of Mykonos restaurants:
Agrari Restaurant: Agrari Beach Tel . 22890 / 71295 Traditional beach restaurant with a green garden. it offers Greek dishes (with ecological products), lamb, fresh fish grilled. From 08:00a.m. to 01:00a.m.
Alefkandra (Gryparis Restaurant): Tel. 22890 / 22450 Little Venice, Alefkandra Greek cuisine - large, well organized restaurant with nice sea-front location in front of the Catholic Church. In Little Venice, Alefkandra area, facing the Chora windmills, serving Greek delicacies. Has special banquet facilities. Specialties: fresh fish and lobsters live from the tank.
Alegro Cafe' Restaurant: Gialos water front Tel. 22890 / 25030 New, more pleasant and bright decoration, new chef and renewed menu. Everything here is homemade, it's ideal for snacks, fresh salad, seafood and many other Greeks dishes. Open from 8.00a.m. to 4.00a.m.
Andreas & Maria: On road off Platy Yialous road, behind the Glastros supermarket. Tel. 22890 / 28154 (open in winter) Typical local restaurant-tavern; appetizers, roasts, busy at weekends.
Antoninis: Manto Square. (since 1955) Tel. 22890 / 22319 Simple Greek taverna, busy & popular with locals and visitors.
Aquarius ( Petrino): just meters away from Kalafati Beach: tel.22890 / 72303 For 10 years now typical taverna with many Greek appetizers and daily home cooking.
Baboulas Ouzeri: Small fish taverna - ouzeri with fresh seafood; on Kaminaki waterfront. tel. 22890 / 26804 at Mykonos old port, nice view, local feel: Mykonians go there for traditional fresh seafood meal + all Mykonian appetizers.
Blue Ginger: hilltop overlooking Mykonos Town: Ano Mera road, opposite Mykonos medical center and the Shell station. Thai - Chinese - Japanese restaurant, very prettily decorated, with good service; inside or terrace dining, sea and town view from the terrace. This year delivery service too (within 6km) Tel. 22890 / 27602
Casa di Giorgio: Mitropoleos 1 (behind the catholic cathedral) Tel.6932561998 The grandson of Capt. Giorgio (Yorgos) transformed his house to a small "pocket" of Italian taste. Let yourself be seduced gastronomically by the original pizza, the pasta and the risotto. Open from 12.00 noon to 2.00a.m. "Pizza e Pasta Fresca".
Diles: Lakka Sq. 22890 / 22120: Right in the Andromeda Residence in the heart of Mykonos Town. The highest standard of gastronomic delight and creative delicacy. An ambience of luxury and elegance, the best ingredients, art de la table and an excellent wine list allows us to ensure you have an unforgettable dinner and a memorable experience.
Eva's Garden: Goumenio Square & Kalogera, Chora/centre town. Tel. 22890 / 22160 Home cooked greek and international dishes in a beautiful garden and roof setting. Dining room inside for windy nights. Excellent service and good atmosphere Open 6 .00p.m. - 1.00a.m.
Katrine's (La Maison De Catrine): Dilou St. Tel. 22890 / 28600 International & sophisticated setting and cuisine. Stylish and expensive but reputed for its international & French-touch cuisine. Good service and wine list. The oldest chic restaurant on Mykonos. Cuisine embraces Greek traditional (with 'home' style appetizers) and international luxury. Located on small, busy sidewalk where everyone is part of the scene, particularly if dining outdoors. Open 6 .00p.m. - 2.00a.m.
If you want to see the best Mykonos hotels, apartments and get the prices rom the best accommodation sites at once compared visit: Hotels in Mykonos, Greece