Where to stay in Santorini
Wondering where to stay in Santorini? Welcome to our ultimate guide.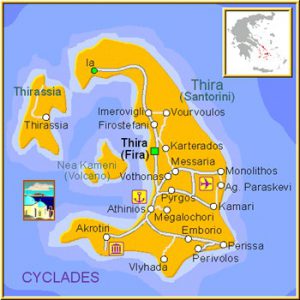 Kamari
On the east coast of Santorini, you will find the island's most popular tourist destination, Kamari with its long lava beaches with black sand and shingle. The resort has everything you need for an enjoyable holiday. There is a wide choice of cafés, restaurants and bars and in the evening, the promenade is filled with people who are out and stroll in the balmy night. It is also in Kamari you will find the best nightlife on the island.
Perivolos / Perissa
On the south east coast of Santorini, you will find these popular resorts. Here, you'll find a long black lava beach with a nice board walk lined with restaurants. There is also a rich variety of shops and bars. Nightlife is not as hectic as in Kamari, but in high season expect great crowds and loud music.
Vlychada
To the south lies Vlychada which is a quiet place perfect if you are looking for solitude, and plan to read all those books you have not had time for yet. At the local small fishing port, you will find a lava beach and a few taverns. In Vlychada you will not find much nightlife, this place is for sun, sea and relaxation. Want to see more of the island? Take the local bus, rent a scooter or a car.
Santorini Accommodation
Check out full lit of Santorini hotels, with prices reviews at Hotels in Santorini, Greece