Dodecanese Islands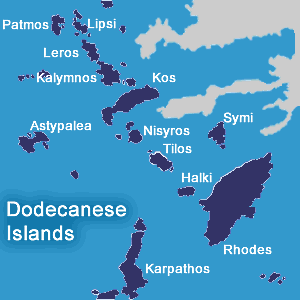 The Dodecanese Islands (Greek: Δωδεκάνησα, literally "twelve islands") are a group of 12 larger plus 150 smaller Greek islands in the Aegean Sea, off the southwest coast of Turkey, southward of the island of Samos and northeastward of the island of Crete. They have a rich history, and many of even the smallest inhabited islands boast dozens of Byzantine churches and medieval castles.
The modern prefecture of the Dodecanese, a subdivision of the South Aegean periphery, consists of 163 islands in total, of which 26 are inhabited. Twelve of these are major, giving the chain its name. The most historically important and well-known is Rhodes (Rodos), which for millennia has been the island from which the region is controlled. Of the others, Kos and Patmos are historically more important; the remaining nine are Astipalea, Kalimnos, Karpathos, Kasos, Leros, Nisyros, Symi, Tilos and Kastelorizo (which actually lies in the eastern Mediterranean).
Other islands in the chain include Agathonisi, Alimia, Arkoi, Chalki, Farmakonisi, Gyali, Kinaros, Levitha, Lipsi, Nimos, Pserimos, Saria, Syrna and Telendos.