Santorini Airport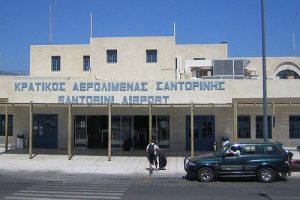 Santorini Airport, located near Kamari village and next to Monolithos area, with regular flights from Athens by Olympic Airways and, Aegean Airlines as well as charters from many European towns. Flight duration from Athens to Santorini is about 30 minutes.
From the airport there are buses to Fira, where you can change to buses for other towns. Taxis are also usually waiting at the airport, but competition for them can be keen. Many Santorini hotels offer airport transfers, usually for a fee that's more than a taxi would charge you.
Also the airport serves as both a military and a civil airport. With its relatively small appron, the airport is only able to serve up to 6 civilian planes at the same time. The tower (freq. 118.05) also serves as approach / departure, up to FL170.
Check out Hotels in Santorini, Greece