Psarou Beach Mykonos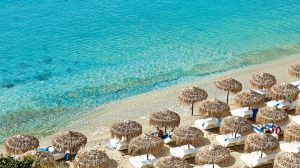 Psarou Beach Mykonos is 5 km from the town of Mykonos. It is one of the most popular and famous beaches on the island, with pure and clean white sand and crystal clean waters (the waters are always calm, as the beach is enclosed by mountains around), ideal for sunbathing and relaxing and also for watersports. Psarou Beach is famous for attracting celebrities from all over the world. Because of the publicity of Nammos, sometimes they call the beach as Nammos beach. There is also a diving school where you can start diving. Earn your scuba diving certification by training with expert divers. The beach offers ample space to dock boats and private yachts. Jet skiing, motor boating, fishing and surfing are also popular on Psarou.
Psarou beach is sourrounded by luxury hotels fancy restaurants, tavernas, mini markets. Every year thousands of tourists and celebrities visit this sandy beach. There are beach umbrellas, wooden loungers, the best beach service on the island, a waiting list for August week - ends and extremely stringent face control - the result being the most unmixed public anywhere on the island. Due to Psarou"s popularity, specially during August, which is the peak of high season, there is a waiting list for the sunbeds and umbreallas. Many luxury hotels are also built around Psarou. It is cloze to Platys Gialos. Situated within walking distance and just to the right of the Plati Gialos bus terminus, Psarou is one of the earliest established beaches. This medium size well-sheltered beach offers good accommodation, restaurants and various water sports which include a diving school.
Where is Psarou Beach Mykonos Located
How to get there
Access to the beach in the high season is difficult by car, there are downhill turns and you must be quite careful.
On the main road leading to the beach of Platis Gialos and 500 meters before it, on the right, there is the intersection for Psarou Beach (there is a sign)
To go to the beach there are 2 options
Or you can go from the road that leads to the famous Nammos restaurant where you can leave your car to the parking service or you can leave it close to a simple tavern restaurant by your self.
Check all Mykonos beaches with videos and photos