What to do in Mykonos
If you are wondering what to do in Mykonos, then you are in the right place. Here is a list of things to do in mykonos
Little Venice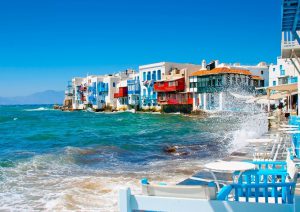 Little Venice is one of the most romantic places in the whole of Mykonos. Named after the popular Italian city with countless canals, Little Venice is a picturesque part of town that hangs over the sea. As the sun sets in Little Venice, the light shines off the buildings and bounces along the water, making it the perfect spot for a romantic night with your special someone.
The most western part of the town meets the sea. The buildings have been constructed right on the sea"s edge with their balconies overhanging the water. During the 16th and 17th century pirating was common and it is believed this area was used for the necessary quick loading and unloading of goods.
Little Venice evolved from the picturesque Alevkantra beach and extends right into the peripherial areas of Kastro, as it is popularly referred to. Visitors are highly recommended to stay in one of the quaint houses that dot the Mykonos shoreline for the sheer pleasure that they afford. You can sit down with a peg or two of your favorite tipple in the quintessential wooden stairways even as the surging waves crash underneath. A truly magical aura indeed.
Little Venice is one of the most romantic places in Mykonos. Marvelous place. Don't miss. Is what to do in Mykonos for sure!
Party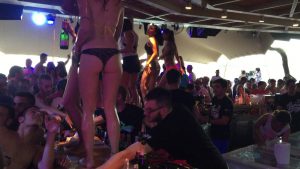 Have you ever attented a Mykonos party? No? Mykonos is the center of PubClub destinations, a place where the afternoon scene exceeds the nightlife at many other destinations, where nights roll effortlessly into daybreak and where meeting people is as easy as seeing them.
It's nightlife is so active and the people so friendly, it's impossible not to become intoxicated from its lively atmosphere and, oh yes, the endless amounts of alcohol.
Beach-lovers and super-budget travelers should consider Paradise Beach. It's sparse but livable, right on the sand (8 Euros a day in summer). It's a bit inconvenient for the in-town revelry but buses run until 4:30 a.m. (1 Euro). The bars at the beach also are holding more night parties to not only keep the backpackers at the beach but also to pull people from town. Clearly-marked vans provide transport from the ferry and airport.
Check out Mykonos party and Mykonos nightlife for more action videos and photos.
Beaches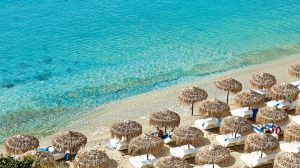 Paradise beach is the most popular beach on the island. People come out at lunchtime to slowly come to life after the previous nights trials. Coarse sand and beautiful turquoise waters invites you to long lazy days on the beach. The beach has plenty of water sports, restaurants and beach bars with loud music pumping to keep your adrenaline flowing.
Psarrou - One of the most cosmopolitan beaches of the Mediterranean Sea. The beach is protected from the wind and in the high season, the beach is one of the islands most visited beaches, there are a plenty nice beach bars and restaurants to chill out in.
You can read full beach reviews, videos and photos in our section Mykonos beaches