Ferry to Milos island
Ferry to Milos island goes to Milos' port is Adamas. Adamas port is the best protected port (by natural means) in the Mediterenian sea. Adamas is connected with many ports through ferries lines.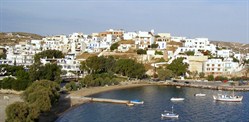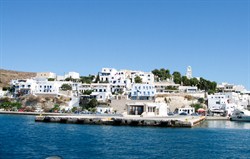 The island is connected with Pireaus (Athens port), Crete (Heraklio) and other islands in cyclades (Santorini, Folegandros, Syros etc).
The link of Milos with Piraeus port, Crete and Cyclades is done by the companies: Ventouris Sea Lines, Zante Ferries, Aegean Speed Lines, ANEK, Sea Jet, Nel Lines. Companies "Ventouris Sea Lines" and "Zante Ferries" are forming a consortium.
By ordinary boat
There is connection with the port of Piraeus and this is the cheapest way to get to Milos. There is an ordinary boat with direct access to the port of Milos, where the sea voyage lasts 5 hours (ΛΑΝΕ sea lines), whereas there are ships that make stops at the ports of Kythnos, Serifos, Sifnos and sometimes in Kimolos; in this case the voyage lasts 7-8 hours (Ventouris Sea Lines, GA Ferries). Mainly in summertime there are frequent connections to the Cycladic islands, such as to Syros, Paros, Naxos, Tinos, Ios, Sikinos, Folegandros, Santorini, Crete and Rhodes.
By speed boat
The voyage by speed boat is the fastest yet the most expensive way to get to Milos. It lasts from 2,5 (Super Jet of the Sea jet company) up to 4,5 hours (Speedrunner of the Hellenic Sea Ways), based on the speed boat's kind and depending on whether the connection is a direct one or via other ports.
A great place to buy tickets online is Let's Ferry

On all ferry sites the prices are the same, but in this, there is no extra surprise when you complete the purchase.
Here are some about prices
Indicative Fares Table
From
To
Journey Duration
Cost per adult(one way)
Pireaus
Milos
2h 30mins
54€
8h
34€
Milos
Santorini
1h 40mins
39,60€
5h
16€
Milos
Mykonos
5h
56,20€
9h
21€