Panagia Hozoviotissa the protector of Amorgos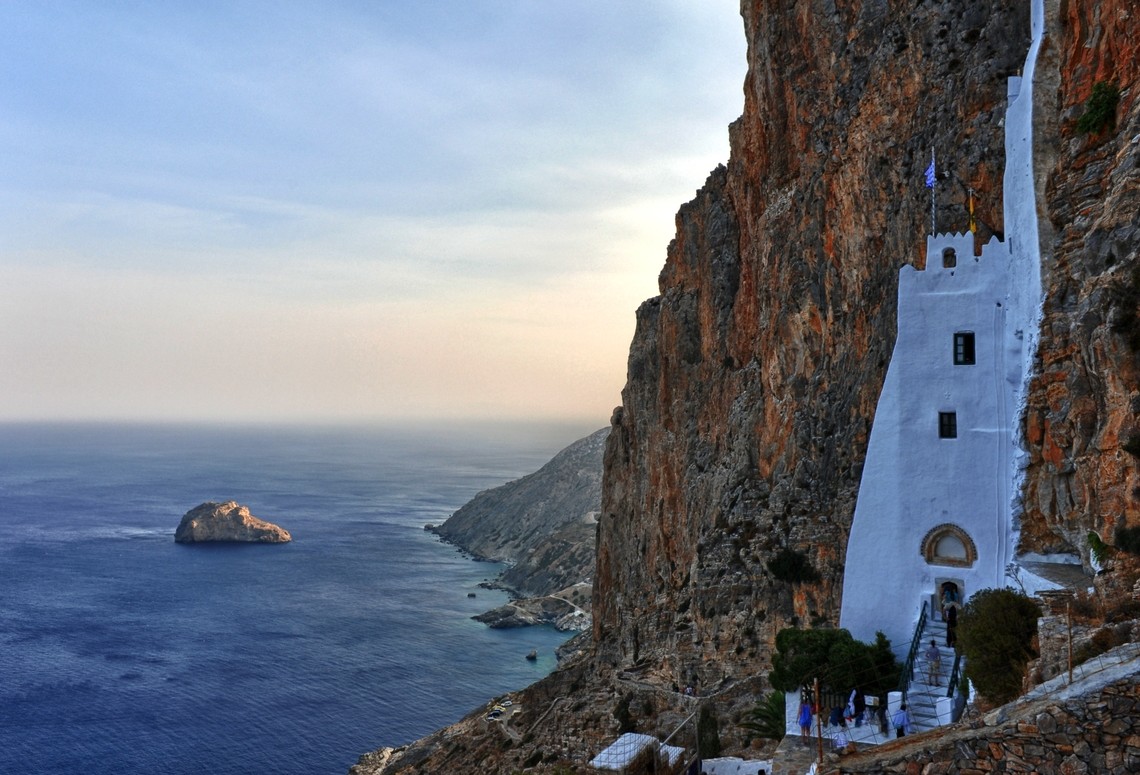 Built on the rocks, the Monastery of Panagia Hozoviotissa, in Amorgos, is only visible from the sea. Like a white painting, on rocky, threatening and rugged rocks, with the Aegean spreading generously 300 meters below. Its white color, which blindingly reflects the sun, did not exist from the beginning.
The Hozoviotissa Monastery was at first in the colors of the surrounding stone, as it was intended to function as a safe observatory where those in it would be able to watch without being easily visible.
In the simple, unspoilt and at the same time imposing monastery the visitor reaches about 300 steps. It does not matter whether you are religious or not. He can only stand awe in front of this strange creation of 1017, which is forty meters wide, five in width and in height extends to eight floors.
Narrow stairs, stone or built, carved on the rock, connect the floors of the Monastery. The interior is labyrinthous and complicated, with arches, arches of stones or poros from Milos, beams and woodcuts. The monks' cells, the galleys, the warehouses, the wine-presses and the wells are sculpted on the rock. The rock is transformed into a functional building element and the entire monastery stands out as an excellent example of folk architecture. And going from level to level, from corner to corner, hospitable monks have coffee and loukoumi guests.
Inside the monastery there are two inscriptions of the Virgin Mary and a six-person dating from the time of Emperor Alexios I Komnenos. The icons are the living testimonies of the origin of the image, which originated in the Hozhiva or Hozov area of ​​the Holy Land, from where it got its name.
Besides, the specific place where the monastery was built is, as it is said, the exact location that the Virgin Mary has set to construct her temple after arriving "by sea, in a miraculous way", as the verbal narration says, in the bay of Agia Anna near in the Monastery.