Panormos Beach Mykonos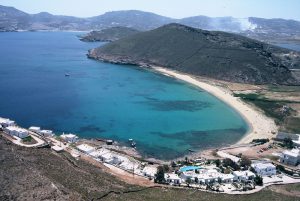 Panormos Beach Mykonos is fairly quiet and frequented by sunbathers. To reach it from the Chora and the port of Mykonos, take the route to Agios Sostis Beach where you will pass the Marathi Water Reservoir and the island's countryside, speckled with traditional whitewashed Cycladic-style houses and buildings.
Located on the northern side of the island, Panormos beach is family friendly, though note that nudity is allowed, and can be witnessed in more extreme cases toward the more secluded right side of the beach. Unorganized until recently, this sandy beach has become increasingly popular in the past couple years among those looking for a more exquisite combined beach and dining experience. Three years ago there were no umbrellas on the shore but you can now reserve your spot in advance free of charge with a purchase of food or drinks from the Panormos Bar and Restaurant.
For those looking for a bit more privacy, relaxation, and less noise, Panormos beach is a great choice. The waters here are clean, and less crowded, and the beachfront bar and restaurant serves you delicious and pleasing to the eye dishes right on the sand.
There are a couple of restaurants located nearby where you can enjoy your meal or coffee in their delightful shadow. They can also set umbrellas and sun beds at your favourite spot and you can have your drink or snack served at no time.
At the beach bar also you will hear great music, for the eclectic ears, so you might want to give it a shot!
Beware of the two geese quacking around and have literally become the mascots of the beach!
Check all Mykonos beaches with videos and photos