Sights in Santorini
Sights in Santorini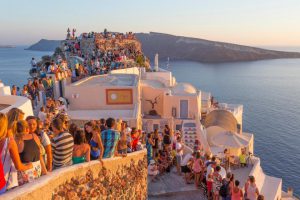 One of the most photographed Greek resorts are Oia up on the north west coast and is one of the well known sights in Santorini. There are not many residents remaining in the heart of the resort, it has mostly been transformed into boutiques, trendy cafés and restaurants. Many artists have chosen to settle here and in the narrow streets you'll find lots of art galleries and shops selling art.
It is also where you should sit down to watch the sunset, the cafés are usually crowded enough until it's time for the sun to slowly sink into the sea. Spontaneous applause is not uncommon and you get goose bumps of the spectacle. There is an interesting naval museum in Oia, which is worth a visit.
Check out also: Santorini beaches, Santorini nightlife, Where to stay in Santorini.
Photos