Mykonos beaches


Here's a roundup of the best of Mykonos beaches (photos and videos).
Paradise beach is the most popular beach on the island. People come out at lunchtime to slowly come to life after the previous nights trials. Coarse sand and beautiful turquoise waters invites you to long lazy days on the beach. The beach has plenty of water sports, restaurants and beach bars with loud music pumping to keep your adrenaline flowing.
Psarrou - One of the most cosmopolitan beaches of the Mediterranean Sea. The beach is protected from the wind and in the high season, the beach is one of the islands most visited beaches, there are a plenty nice beach bars and restaurants to chill out in.

If you are in search of a quick guide about the best Mykonos beaches then read on. The following are by our oppinion the top 10 beaches in Mykonos.
1. Platis Gialos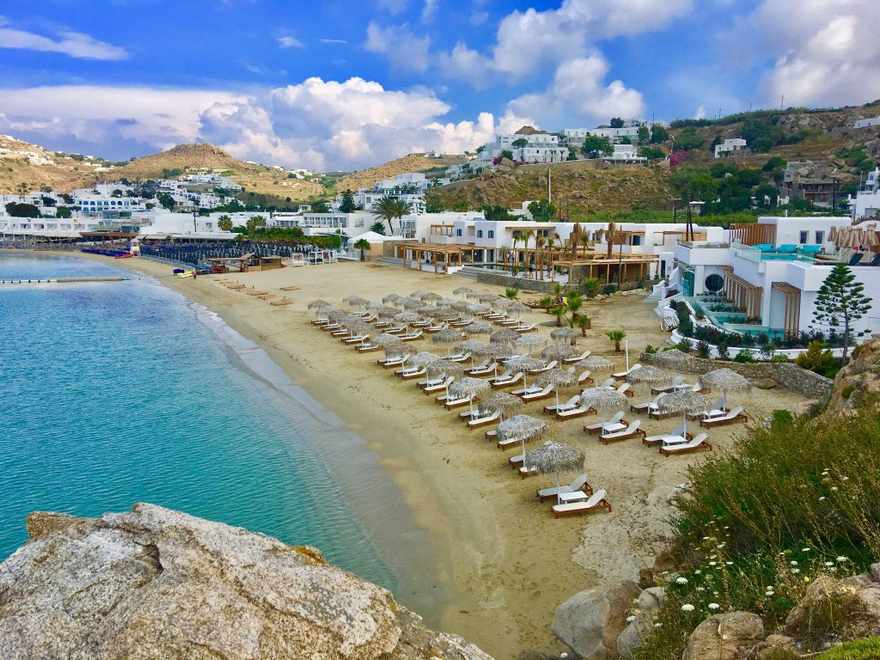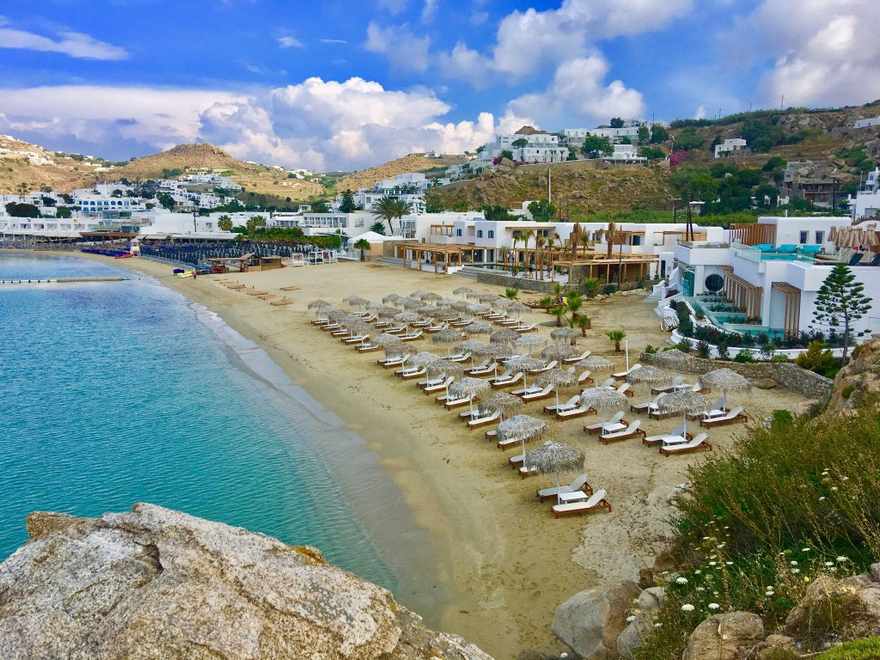 Platis Gialos Beach Mykonos is one of the most popular beaches , not only in Mykonos or in Greece but in the whole of the Mediterranean sea!
There are very regular bus services to and from Mykonos town that take about 15 minutes.
This large sandy beach is very well organized and provides a variety of facilities, especially for families with children and there are plenty of beach & sea sports such as water-skiing.
2. Psarou Beach



PSAROU BEACH
Psarou Beach Mykonos is 5 km from the town of Mykonos. It is one of the most popular and famous beaches on the island, with pure and clean white sand and crystal clean waters (the waters are always calm, as the beach is enclosed by mountains around), ideal for sunbathing and relaxing and also for watersports. Psarou Beach is famous for attracting celebrities from all over the world. Because of the publicity of Nammos, sometimes they call the beach as Nammos beach.
3. Ornos Beach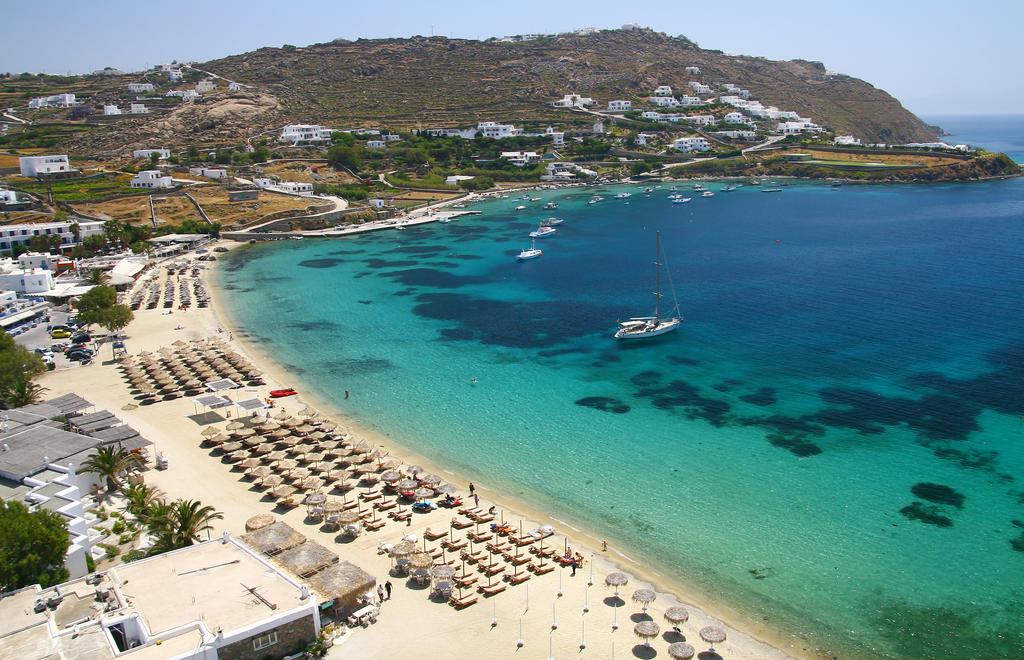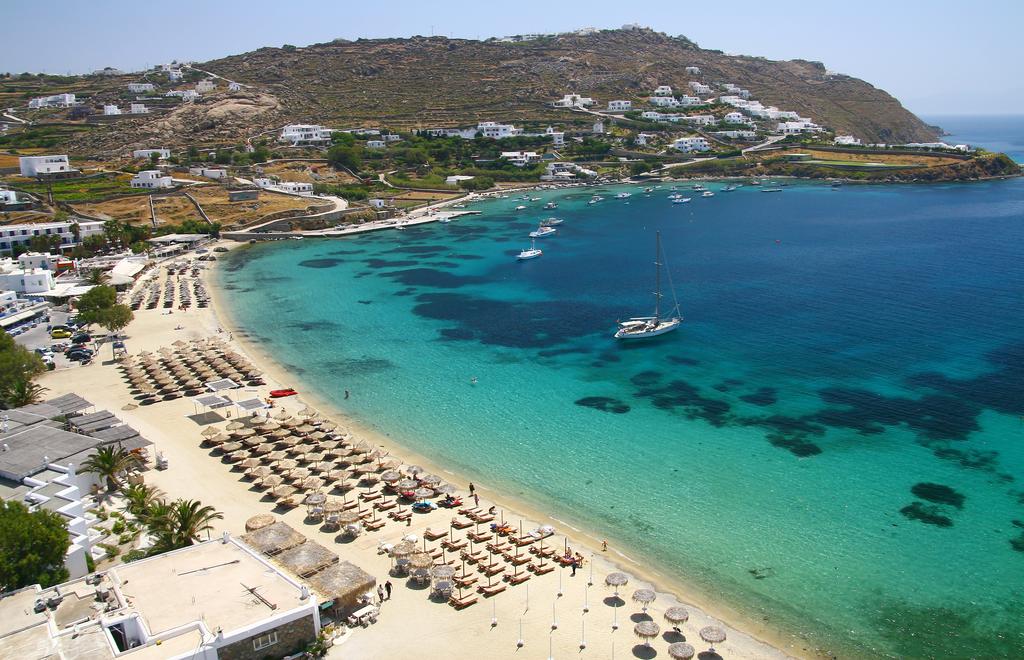 ORNOS BEACH
Ornos is in a beautiful location with an abundance of restaurants and cafes but this is not a beach for anyone looking for a quiet and relaxing day of sunbathing, despite the pictures in the brochures.
Ornos is a bustling beach, full of young people, families and tourists. Very good organized with sunbeds, umbrellas, sofas, beanbag, restaurants and beach bars. Sun loungers are jammed side by side and cover almost every inch of the sand but holiday visitors will need to get there early to bag a place as they soon get snapped up.
4. Paraga Beach


PARAGA BEACH
Paranga Beach Mykonos is a combination of two sandy beaches separating by a headland and forming a large beach. The southern beach is the calmer, while the northern one is fully organized and lined by many taverns playing music, younger crowd & a more alternative crowd/ nude bathing and tiny gay section.
5. Kalo Livadi Beach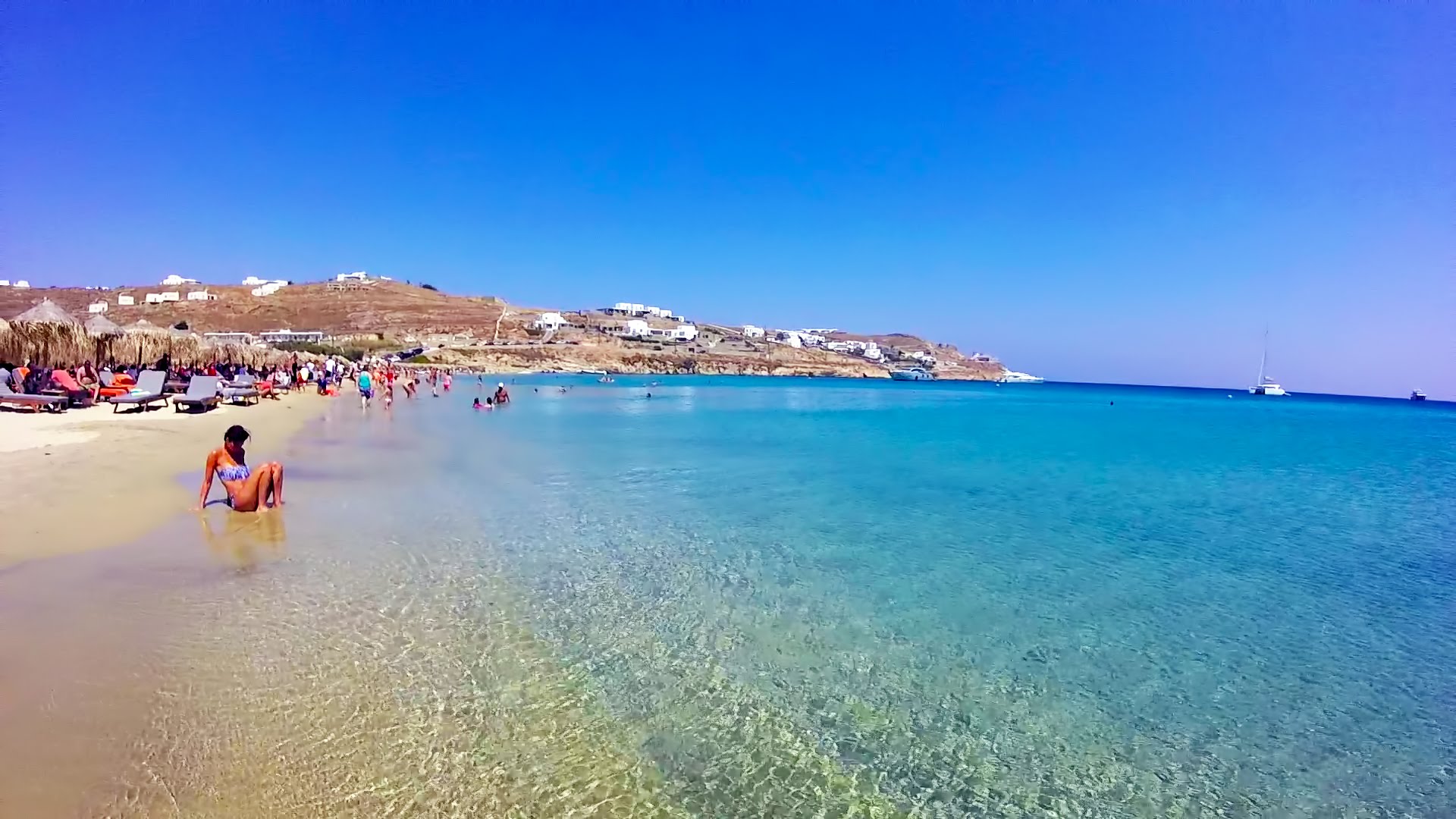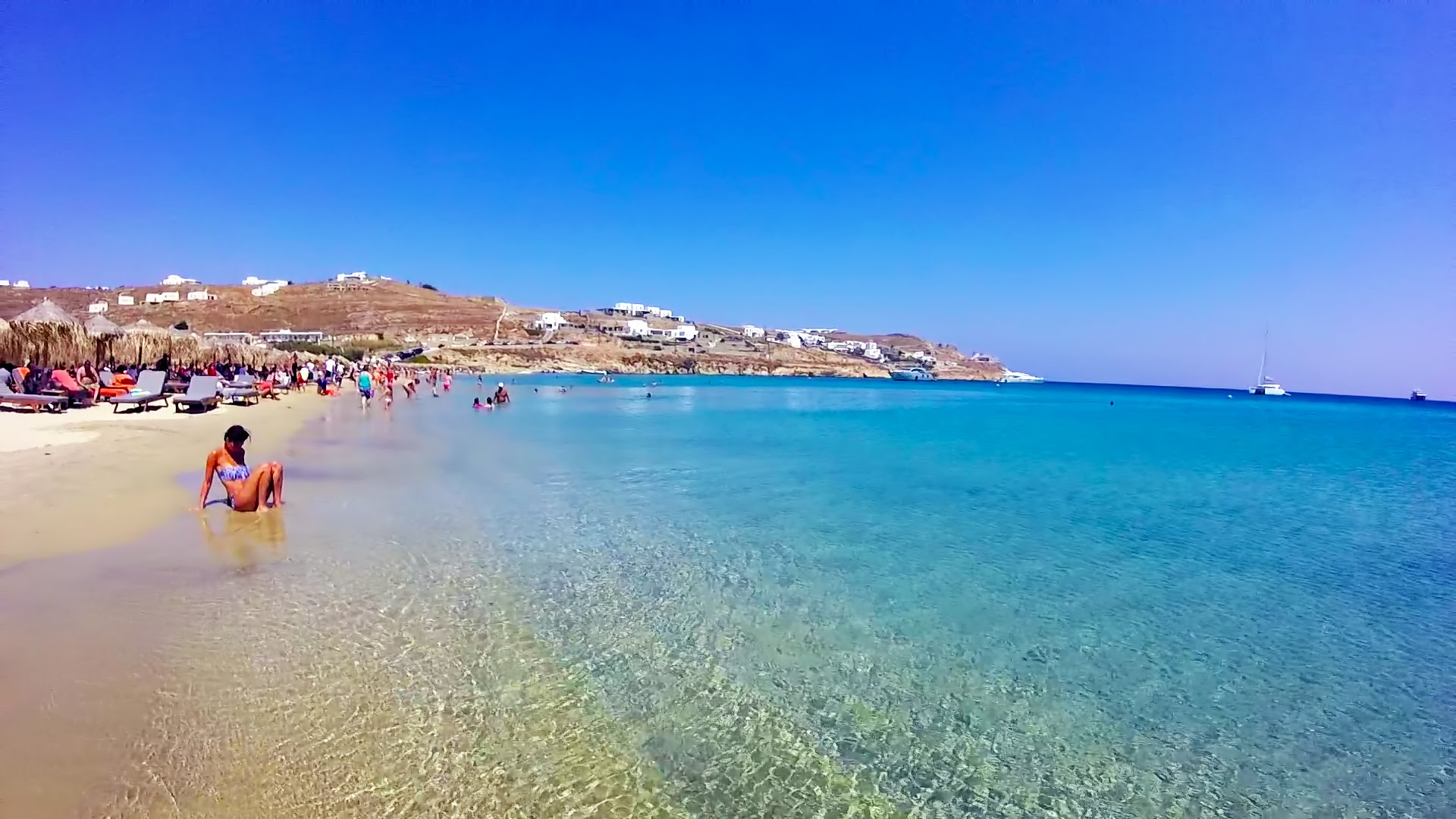 KALO LIVADI BEACH
Kalo Livadi beach Mykonos is another beautiful, quite big and very popular beach at the south part of the island.
It's definitely one of my favourite beaches of the island as it feels so big.
It's located between Elia and Kalafatis beach and it's pretty big in length and width.
6. Super Paradise Beach


SUPER PARADISE BEACH
It's the most famous beach of the island.
All the crazy beach parties is the main reason people visit Super Paradise, so it isn't ideal for families or seniors.
However, it's a pretty good sandy beach with nice waters but not the best of the island.
Bear in mind though that the right side of the beach is mostly nude and gay friendly.
In the afternoon the music gets really loud and it will come from both the left side (Super Paradise Beach Bar Club) and the right side (Coco Club).
7. Paradise Beach



PARADISE BEACH
Soft sands, azure seas and a rowdy atmosphere have made Paradise one of the most popular places on the island. Paradise has become more developed over the past few years and now features a nearby strip of resort hotels, restaurants and beloved carousing spots like the Tropicana Beach Bar and Cavo Paradiso Club.
8. Agrari Beach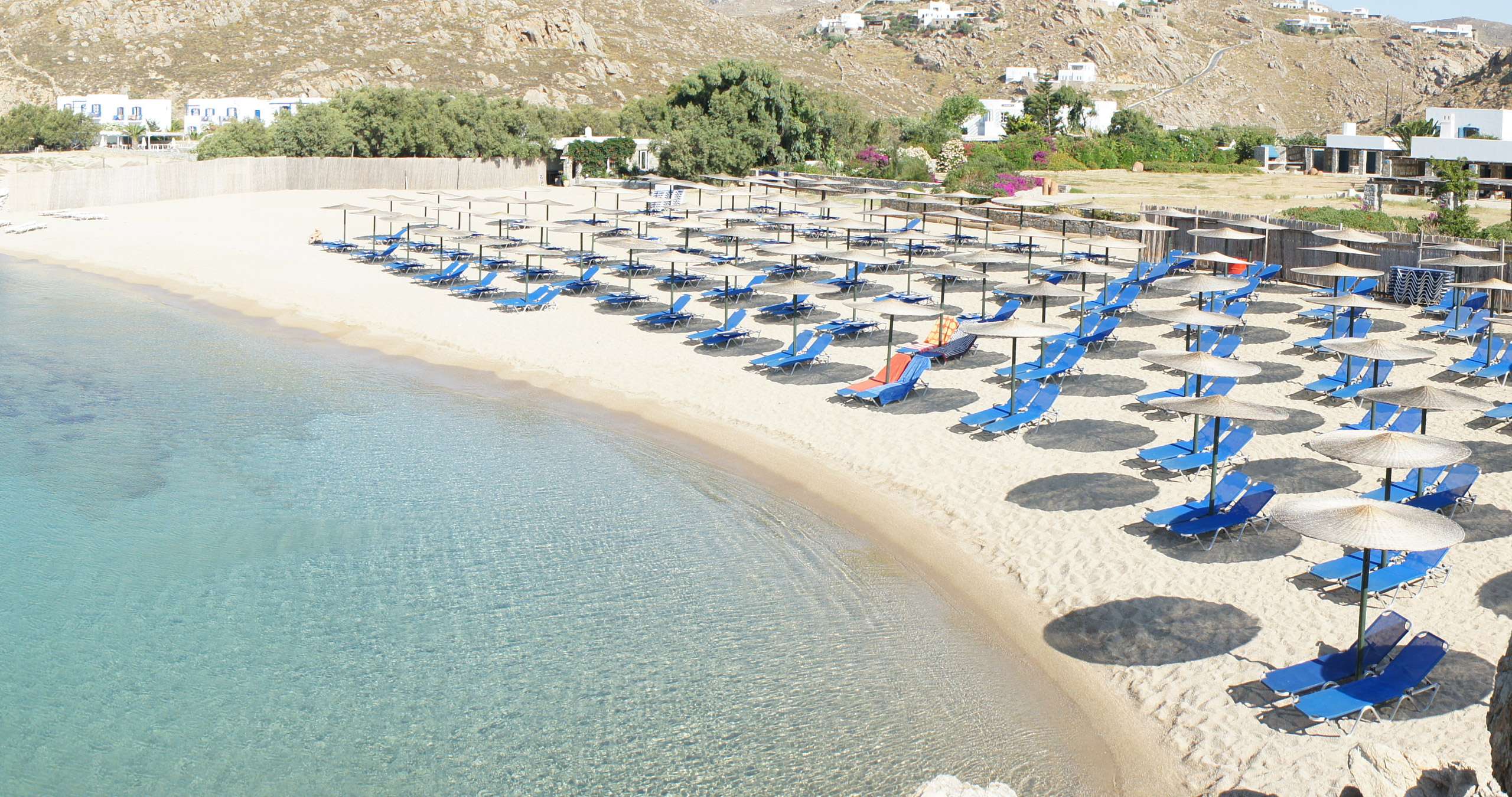 AGRARI BEACH
Agrari Beach Mykonos is another beautiful beach, a bit seclusive for those who do not like crowds.
The crystal clear blue water will pay you off for the difficult route, the long sandy beach is split up into right and left hand side which provides umbrellas, sunbeds, beach tavern and water sports.
9. Elia Beach


ELIA BEACH
Elia Beach Mykonos is by far one of the most beautiful beaches in Mykonos.
The crystal clear blue water is exactly the same as you see it in all those postcards!
There are 2 ends on the beach and both are quite busy (especially between June-September).
9. Fokos Beach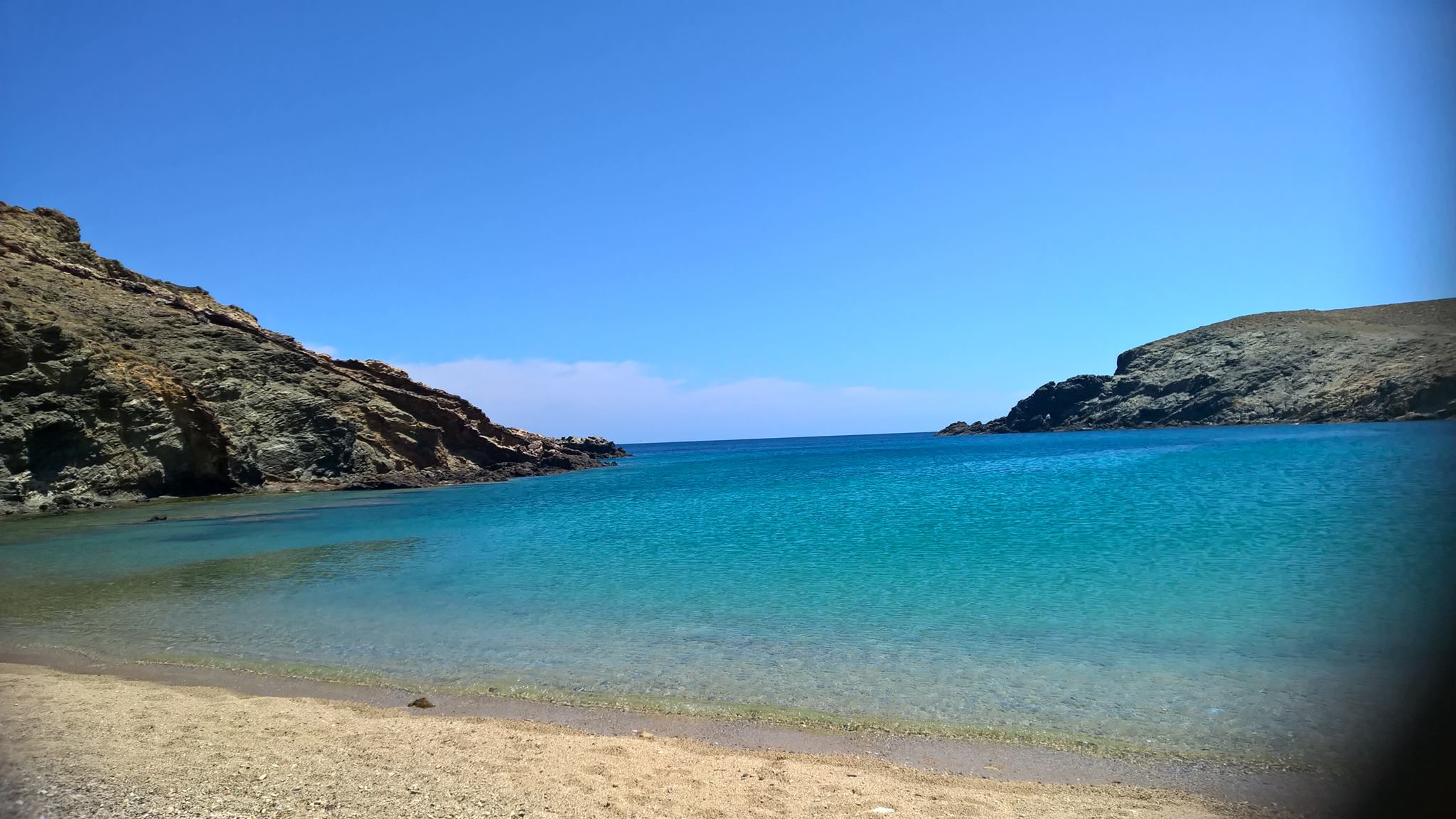 FOKOS BEACH
Most of the tourists agree thet Fokos beach Mykonos is probably the most beautiful beach of Mykonos.
If you are looking to relax and be seclusive this is the beach for you (plus the amazing sand!).
Mykonos accommodation
If you want to book a hotel or a room near one of the Mykonos beaches then you are lucky. For your accommodation, there is a variety of rooms for rent, hotels, and furnished apartments. The best website to book a hotel or a villa near Mykonos beaches (it has the most available rooms and private villas on the island…even more than Airbnb!) visit hotelscombined.com
P.S. – If you've found this article helpful, please consider booking via the links here as it helps keep the website community supported and advertiser free. All the companies are ones we use ourselves in our own travels. If you have any questions, email us!