Mykonos Airport
Mykonos Airport is located in Chora, 4 kilometers (2.5 miles) southeast of the town of Mykonos, Greece. The transfer time from Chora to Mykonos airport is about 10 minutes. So, the probability of a person missing the target, while driving from the Mykonos town to the airport or vice versa, comes down to zero. Whilst the town and its harbor are perched on the western coast of the island, the airport is situated in the interior part of the region.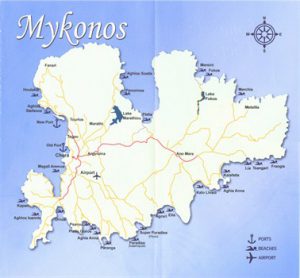 To get from Mykonos airport to your destination, you can choose from manifold travelling options that include a public bus service which operates on a regular basis from the airport to the town centre, taxi which can be easily found at the taxi rank situated in front of the terminal building, a shuttle bus service and renting a car.
Certain hotels in the town center of Mykonos, propose a transfer to and from the airport by some private mini buses, thereby increasing accessibility to the airport.
If you want to see the best Mykonos hotels, apartments and get the prices rom the best accommodation sites at once compared visit: Hotels in Mykonos, Greece