Lindos Beach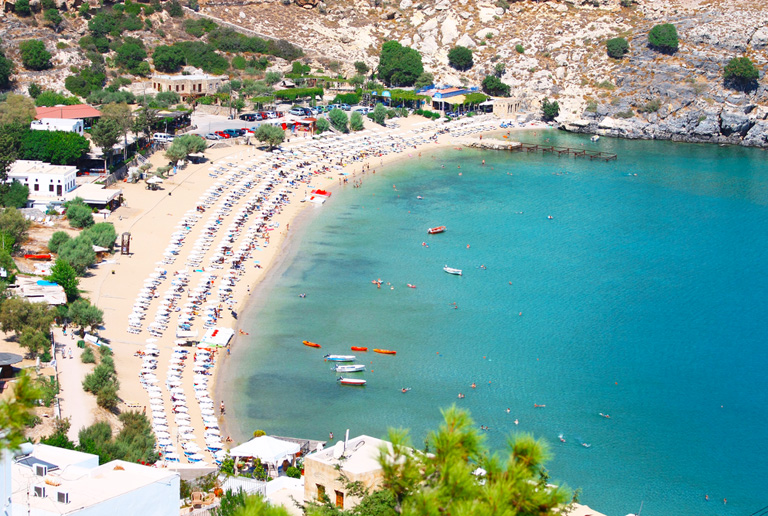 Located in a small alcove just under Lindos Castle, Lindos Beach is fairly small. It is, however, a convenient choice for those who are spending time at Lindos. The fact that it is situated on a small bay, called Saint Paul's Bay gives it an intimate and cozy feeling. There are plenty of beds here to lounge on and the shore is made of sand and not peddles, which adds to the enjoyment. Legend has it that Saint Paul landed here during his quest to spread Christianity to the rest of Greece.
Lindos Beach is a great place to spend some time. Here you can relax on golden sands, see a variety of marine life and explore a village crowned by an ancient hilltop fortress. Once a popular celebrity hangout, today Lindos Beach attracts couples, honeymooners, day-trippers and young families.
Enjoy a day of relaxation and activities on Lindos Beach. The sandy expanse sits on a picturesque bay flanked by rocky hills. Rent a paddle boat or kayak for some fun in the Aegean Sea. Go to the south side of the bay for Pallas Beach, a quieter spot that is popular with the locals. Join a glass-bottom boat trip from the beach's jetty.
You will find sun lounges and umbrellas for rent at both Lindos and Pallas beaches. Visit one of the waterfront taverns situated around the bay to sample traditional Greek food while enjoying views of the cliffs and sea.
Lindos Beach is about a 1-hour (50km) drive south of Rhodes City. Visitors coming by car will find free parking at the main beach and at St. Paul's Bay. Spaces fill up fast from June to August. Alternatively, come by boat or bus from the island's capital city.