Pollonia Milos
Pollonia Milos is a picturesque fishing village on the northeast tip of Milos Island, Cyclades, Greece. A quiet tourist resort, Pollonia features all the amenities you'd expect to find in a typical Greek island and more, such as sandy, tamarisk tree-lined, protected beaches, traditional tavernas by the waterfront, fishing boats moored by the quay, quaint, white & blue rooms for rent, bougainvillea-adorned houses, white-washed churches, beautiful views of the Aegean sea, romantic sunsets, and more.
In addition, the spectacular and unique geology of Milos is visible in parts of Pollonia, the small island of Kimolos is nearby with daily ferry connection, and Pollonia is only 10 kilometers (6 miles) away via paved road from most other towns and points of interest in Milos, including the Adamas seaport and the Milos airport.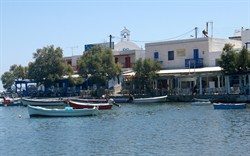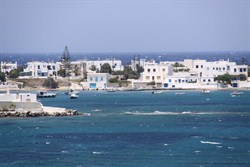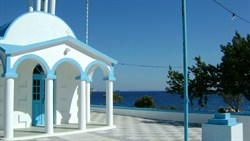 Pollonia Rooms and Accommodation
Please navigate to Pollonia Rooms for information on accommodation in Pollonia, Milos such as Pollonia rooms, studios, apartments, villas, hotels. There are several accommodation options in Pollonia ranging from inexpensive double rooms, to spacious apartments ideal for families to upper-class hotel suites.
Check out full list of Pollonia hotels, with reviews, photos, and prices Hotels in Pollonia - Milos, Greece
Pelekouda
On the northeast edge of Pollonia itself, the Pelekouda peninsula has seen dramatic growth in new construction in recent years, to accommodate the increased demand for lodging in the Pollonia area.
Ideal for Families
Pollonia should be of particular interest to families with small children. Most beaches in Pollonia, including the main beach of the town feature golden sand and shallow water, making it convenient for kids to swim and the parents to monitor their children, while the numerous tamarisk trees along the back of the beach provide much needed shade for the young skin of toddlers and infants. At the same time, a kids' playground in the middle of town, right behind the main beach of Pollonia, provides a welcome distraction to young children. Several lodging establishments in Pollonia also provide spacious accommodations for families with children.
Culture
The cultural association of Pollonia, POSPOM (pron. poss-POHM) organizes events of interest to both the locals and the visitors of the town. A building on the Pelekouda peninsula is dedicated to cultural events, such as art shows, photography exhibits, music concerts, etc.