Fira Greece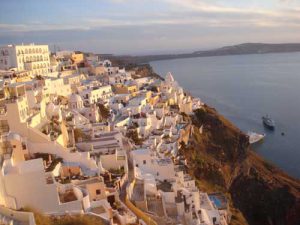 Fira Greece is the capital of Santorini island. Bearing in mind that the shape of the island is like a semi-moon with its internal curve to the west, then Fira town is located in the middle of the west side of island, just over the caldera and opposite the volcano, with a view to the sunset.
Fira city has a long and narrow shape as it is encircled by two streets which run from the north to the south side of Fira. So, the west part of the city is crossed by Agiou Mina street and its extension, M. Nomikou street. The east street is Erythrou Stavrou. These streets as well as all the streets of Fira town centre are cobbled and paved, so there are no cars in the centre of the city, especially during the summer.
Ipapandis street crosses the centre of Fira, between the two ones mentioned previously. Strolling along it, one can enjoy the view to the caldera or wander among the souvenir shops and the art galleries on both sided of the street.
A great variety of lava made art-pieces and jewellery is on display outside and in the shops of Ipapandis street. People get usually impressed by the red or black lava made earrings, necklaces or rings. Imagination and creativity meet lava and the result of their unification is often exceptional. If we walk southwards along Ipapandis street, we can reach Agios Minas church some meters north the crossroad of Ypapandis and Agiou Mina streets.
Continuously, a stroll northwards along Agiou Mina street, by the caldera cliff, offers a very nice caldera view. People often rest at the street benches which have been placed towards the caldera side so that letting people enjoy the view.
The south part of the city is also known as Kato (down) Fira. Agiou Mina street is connected with M. Nomikou street on the north side of Fira. The Archaeological Museum of Fira is located on M. Nimikou street, at the crossroad with Ipapandis street. Shops and restaurant can be found in that area as well as old buildings.
Fira is a modern city that gets crowdy during the summer season.
There are a lot of hotels and recreation areas as well as various facilities for tourists in the city. Apart from its picturesque character and its amazing caldera view, Fira has many clubs and bars that make the nightlife embarrassing.
Browse in a full list of hotels in Fira, read reviews, and book with special prices at  Hotels in Fira, Santorini