Mykonos party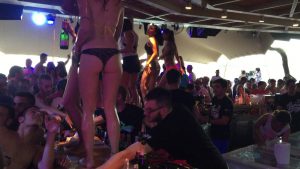 Have you ever attented a Mykonos party? No? Mykonos is the center of PubClub destinations, a place where the afternoon scene exceeds the nightlife at many other destinations, where nights roll effortlessly into daybreak and where meeting people is as easy as seeing them.
It's nightlife is so active and the people so friendly, it's impossible not to become intoxicated from its lively atmosphere and, oh yes, the endless amounts of alcohol.
Beach-lovers and super-budget travelers should consider Paradise Beach. It's sparse but livable, right on the sand (8 Euros a day in summer). It's a bit inconvenient for the in-town revelry but buses run until 4:30 a.m. (1 Euro). The bars at the beach also are holding more night parties to not only keep the backpackers at the beach but also to pull people from town. Clearly-marked vans provide transport from the ferry and airport.
Finding social activities on Mykonos is as easy as going to the beach. In fact, that's the place to start. The revelry starts late afternoon and goes until you decided to call it quits. It's not quite morning, noon and night, but more like afternoon, night and morning.
Paradise Beach is both a quiet, sleepy patch of sand and water and a seaside fraternity party. It has a pair of restaurants (go to the cafeteria because the fruit is refreshing, the Greek salad is fresh from a garden and the chicken soulvaki is very tasty), grainy sand, a few small thatched trees providing shade and topless bathers stretched out on rented lawn chairs (2.5 Euros).
About once a month in the summer, Paradise Beach hosts a Full Moon Mykonos Party at night. Blow off all other forms of nightlife for this beachside bash. The other almost-nightly beach parties make a nice change of pace from the town; it's basically the same beach party under the stars. Look for flyers around town for information.
Late at night at Mykonos
Mykonos - and all of Greece - is thankfully incredibly safe and free of crime. However, Mykonos can present challenges to small groups of girls in the wee hours.
One of the fun things about Mykonos is the never-ending party where all of a sudden it's 5, 6 or even 8 in the morning. But this can also pose problems for inebriated girls walking through town. On weekends, Greek males come in from Athens and other places and pray upon what they perceive are easy pick-up targets. And the drunker, the easier, they believe. They are as persistent as flies at a picnic and try and take girls to "private parties" or a late club. In Hawaii, these people are known as "mokes,"which means the punks on the outer islands. So ladies, use your common sense, keep some wits about you and be forceful. Eventually, they will give up the chase, like a lion giving up on a gazelle.
Mykonos accommodation
If you want to see the best Mykonos hotels, apartments and get the prices rom the best accommodation sites at once compared visit: Hotels in Mykonos, Greece