Should I rent a Car, ATV / Quad Bike or take the Bus in Mykonos?
Hiring an ATV in Mykonos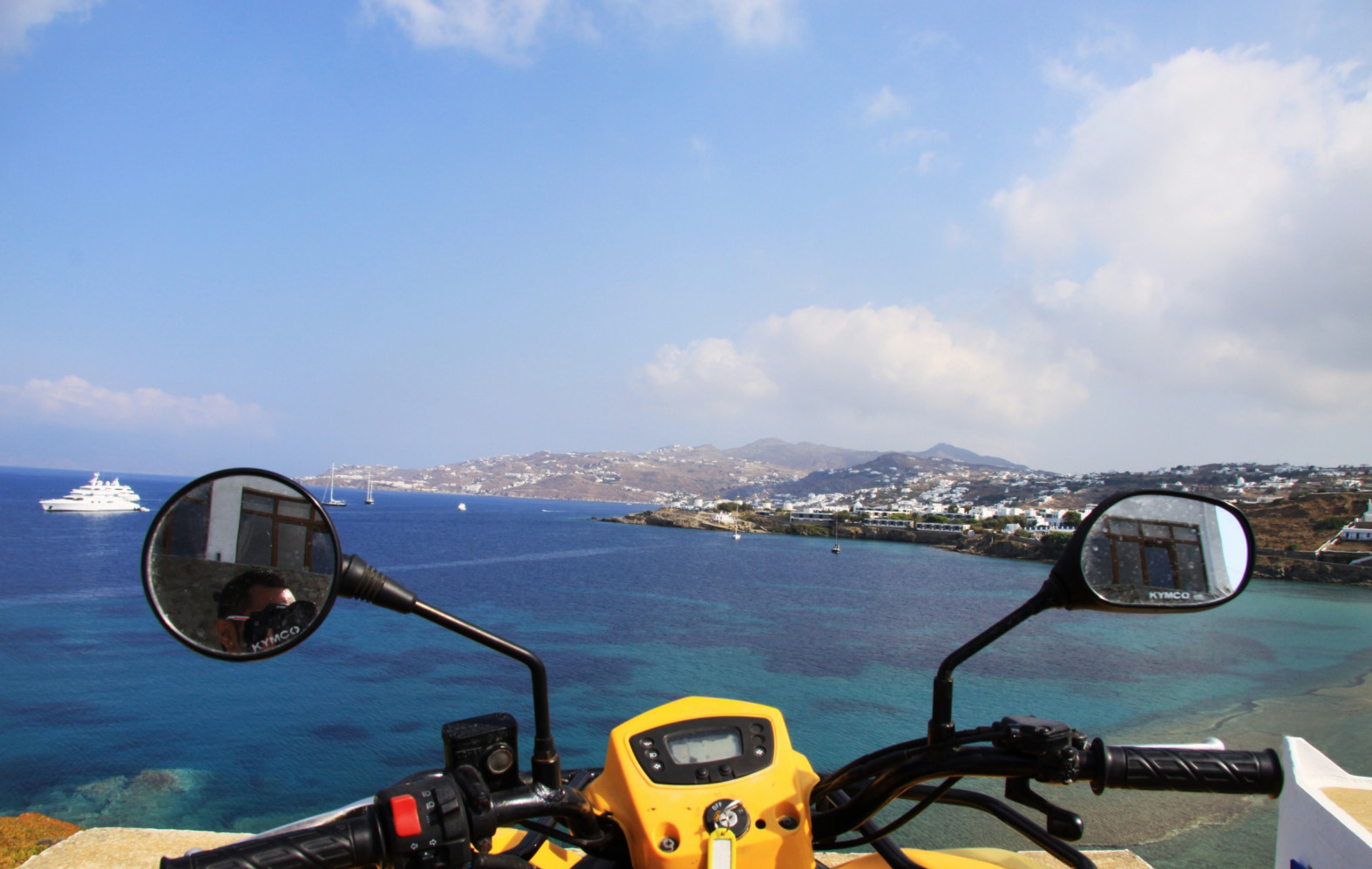 Quad bike - also known as ATV - probably is by the most the best way to see the island. A quad bike gives you the freedom to drive around the island as if you had a car and they can carry two people. It's cheaper to hire than a car and much safer than a Vespa/Moped.  Costs vary and obviously they're cheaper the longer you hire them for, but if you think about the cost of a taxi then you're effectively saving money by having one.
Most companies hire out 100cc ATV's. Fine if you're skeletal, scooting mainly around pedestrian areas, on flat ground or fine with being overtaken by cars. But beware! Mykonos is far from flat.
So better to go for 350cc.
Is it easy getting around Mykonos by ATV / quad bike?
Yes it is pretty easy getting around Mykonos by quad bike. In fact even with the lowest powered bike you will be just fine even on the hills with 2 people on board. However you probably should consider renting a powered one.
Are there places to park a quad bike in Mykonos?
There is no problem with parking, you can park almost anywhere - car parks or street parking where ever you see a space.
Do I need a drivers licence to rent an ATV in Mykonos?
Yes you do need a licence to drive a quad. The crazy thing is that the rental company most of the times will not check your licence, but if you are stopped then you are in trouble with the police and not the rental company and also any insurance is invalid.
EU drivers licenses are perfectly acceptable. But if you're not from the EU you're supposed to (in theory) get an International Drivers permit before leaving home.
Tips about renting quads in Mykonos:
Check your travel insurance carefully as most companies exclude use of quads etc. from their policies. Some will cover their use if you pay extra. The cover you get with the vehicle covers anybody or anything that you might hit but neither you or your passenger are covered for any medical expenses or treatment.
Beeter drive safely. Atv's are the number one way that people end up in the hospital. Most of the times because they don't usually drive Atv's at home
How about taking the bus in Mykonos?
The island has an excellent bus system. You can check the schedule at Ktel Mykonos website: http://www.mykonosbus.com/index.en.html

Tips for taking the Mykonos bus (Ktel)
Things in Greece are a bit casual than you might be used to. The times on the timetables should be used as a rough guide rather than the time the bus will actually arrive.
Try to have the correct change or at least small notes. The buses get VERY crowded and it can take a while for the conductor to get from the front to the back.
You have to pay the fare each time you get on the bus.
How do I rent a car in Mykonos?
RentalCars.com searches all the big car companies and finds the best price. Under Pickup Location select your desired location.
Better play it safe and reserve through RentalCars.com and pick up your car from the airport. The airport is very small and it's super easy to get your car.
Tips about renting car in Mykonos
Before you leave the lot take pictures on your phone of every corner of the car (inside and out).
All local and big name car companies will do airport pickup and drop off.
If you're arriving at the airport then it's best to book in advance and do airport pickup. This way you avoid the sometimes-dreadful taxi line.
Book rental car in advance for visits from June to September.
EU drivers licenses are perfectly acceptable for renting a car. But if you're not from the EU you're supposed to (in theory) get an International Drivers permit before leaving home.