Map of Mykonos Beaches
Welcome to our guide about the best Mykonos beaches map 2018, with detailed map of Mykonos and map of Mykonos beaches.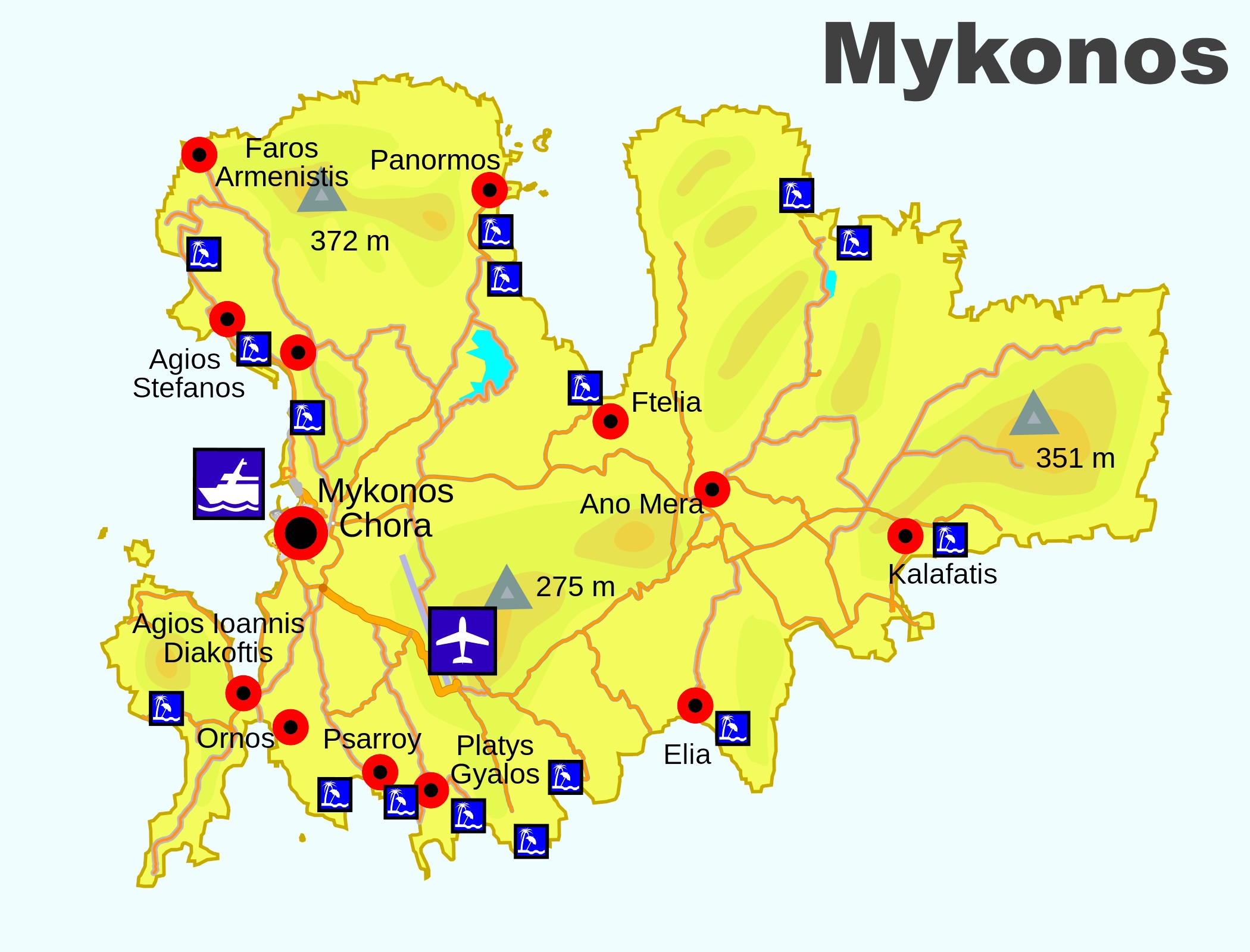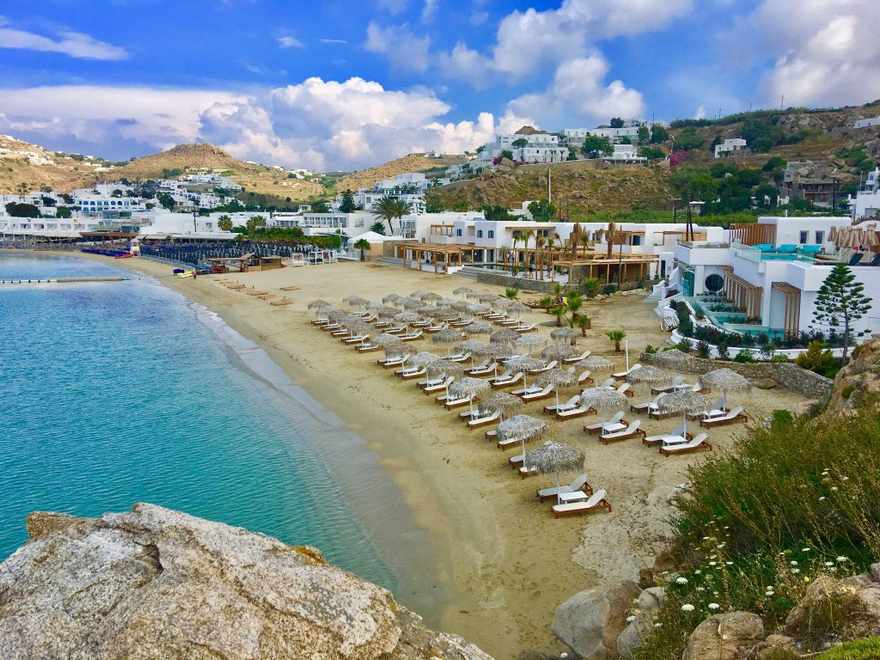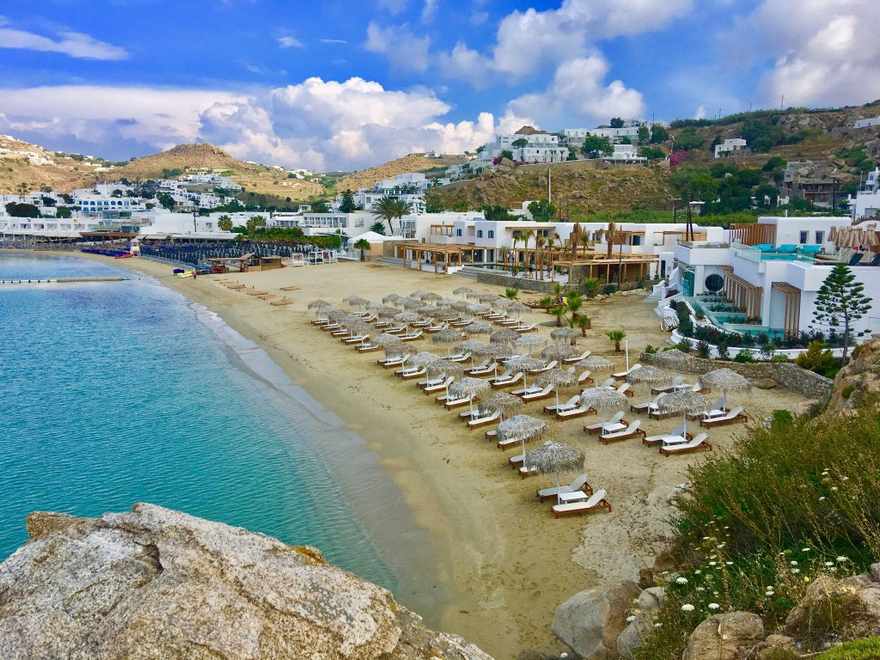 Platis Yialos: One of the most popular and "touristy" beaches in the Mediterranean sea with very regular bus service to town that takes about 15 minutes (about 4 km away).This large sandy beach is excellently organized and provides a variety of facilities, especially for families with children with beach & sea sports such as water-skiing, pedal boats and more.


Psarou: one of the most famous beaches on Mykonos, about 5 km away from town. The clean sea, sandy beach and beauty of the Psarou location are a combination that attract thousands of tourists and - well known & famous Greek high society. The beach is excellently organized offering a variety of sea-sports facilities, plus the excellent N' Ammos restaurant.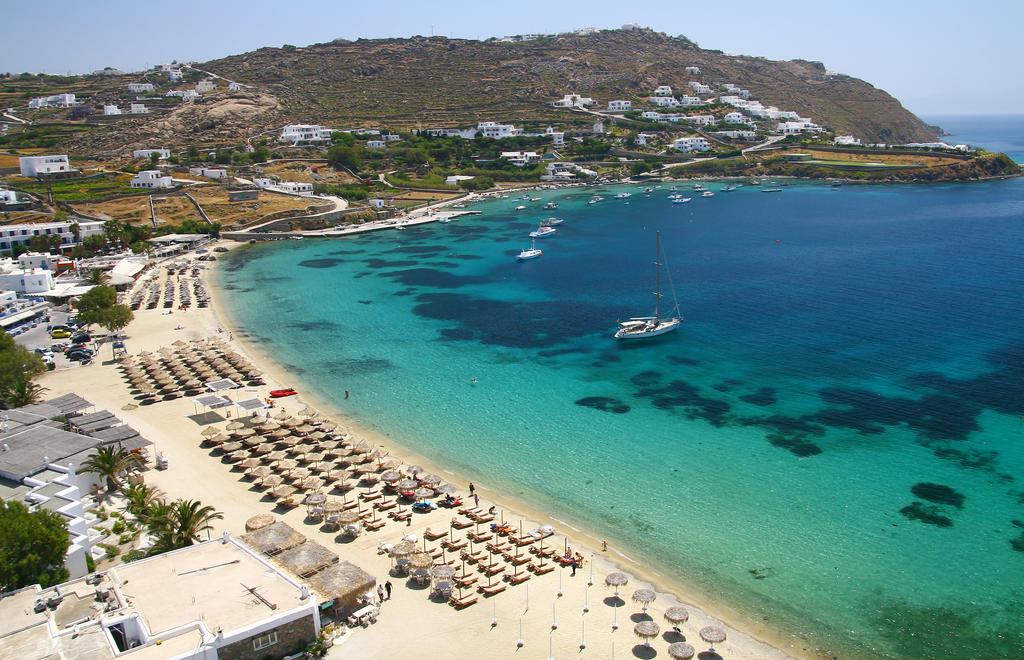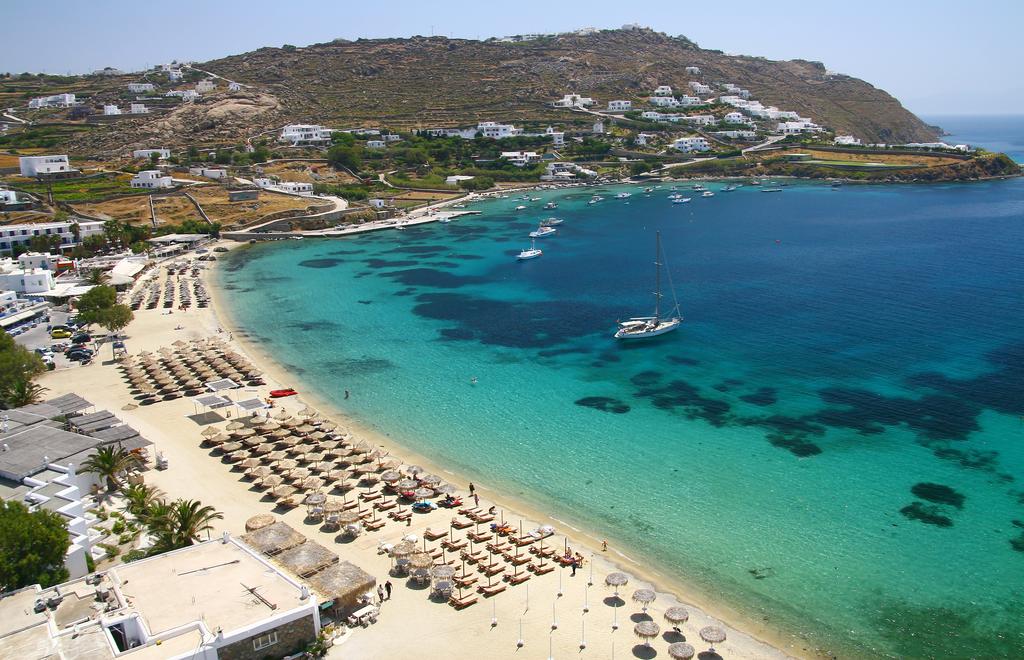 Ornos: Busy family and tourist beach gathers many for its umbrellas, sun-beds, numerous bars & restaurants. Lies at the innermost part of Ornos Bay, south-west of Mykonos and about 3 km from town. The sandy beach slopes gently into the sea; setting is perfect for families with (small) children. There is a school for sea-skiing, plus safe anchoring for yachts & motorboats.

Paranga: There is a camping, some hotels and some nice beach bars and restaurants. Also popular with gays. Nudity is quite common, especially on the right end (facing the sea). At about 5PM the beach gets really noisy with several beach bars. Paranga is easily accessible by bus from Mykonos town or with a regular boat service from Platys Gialos (first stop). It is also an easy walk from Platys Gialos (15 minutes) or Paradise (10 minutes). On your way walking from Platys Galios you will pass by the beach of Aghia Anna, an enchanting little cove nearby Paranga Beach. At this beach there are two lovely restaurants nearby, an Italian restaurant and a traditional-style Greek tavern only a 15-min. walk from central Platis Yialos Beach; small, beautiful beach: younger crowd & NEW age trend: a more alternative crowd/ nude bathing and gay section. Some nice bars/coffee-shops, and fish taverns nearby.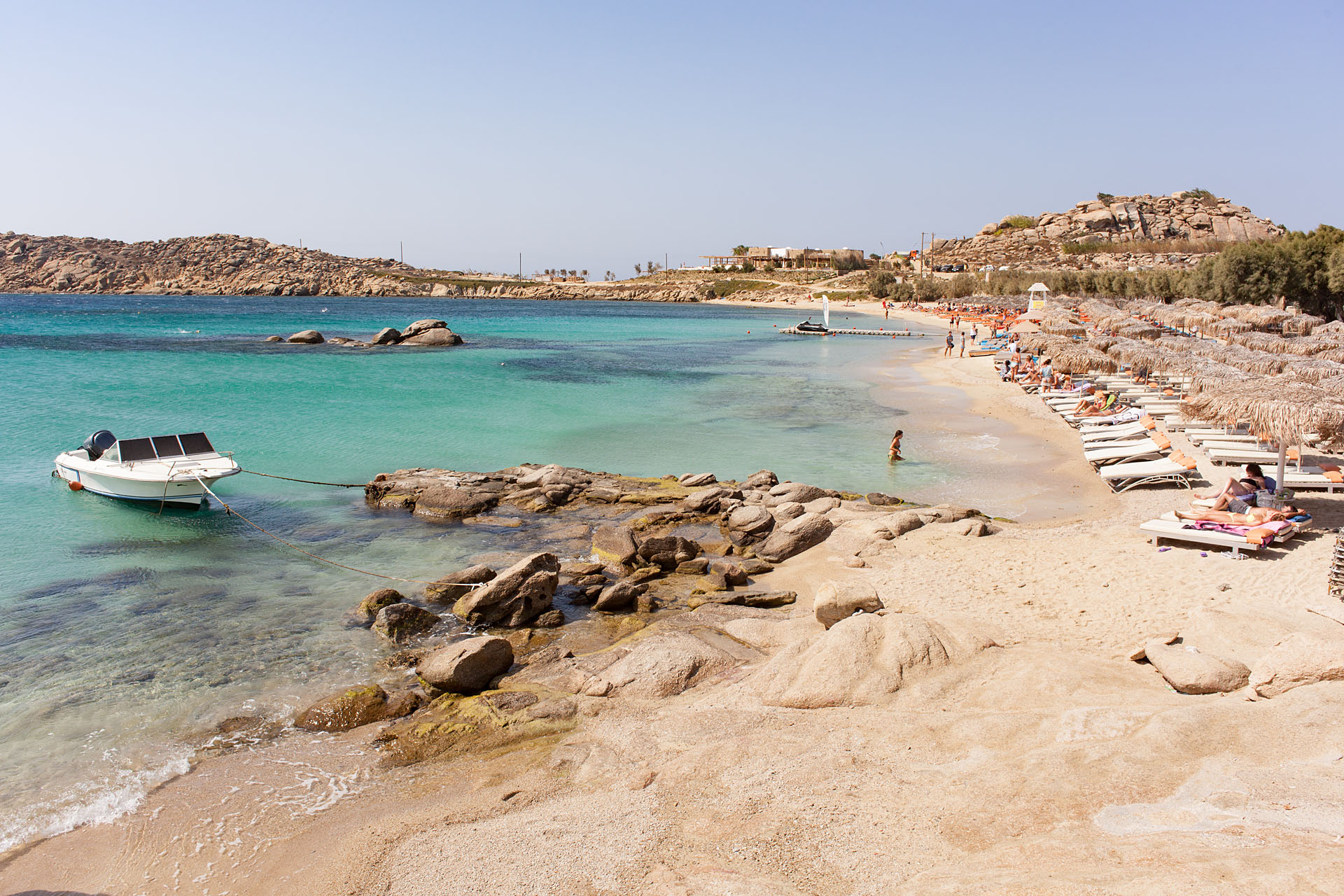 Agia Anna - Paranga: a coarse sand tiny beach on Platy Yialos bay next to Paranga: tranquil with few people: more famous for its typical Greek taverna "Nicolas".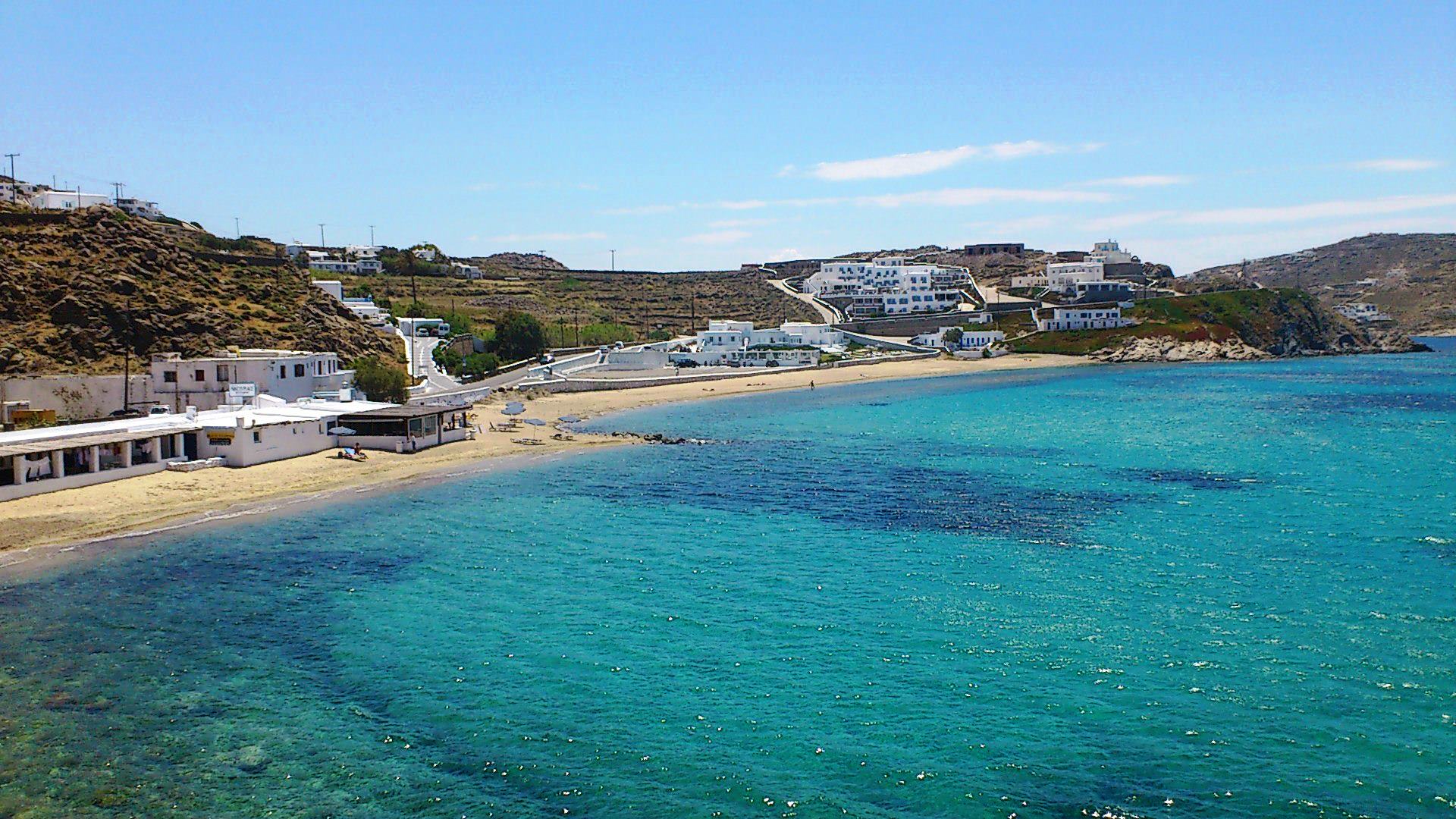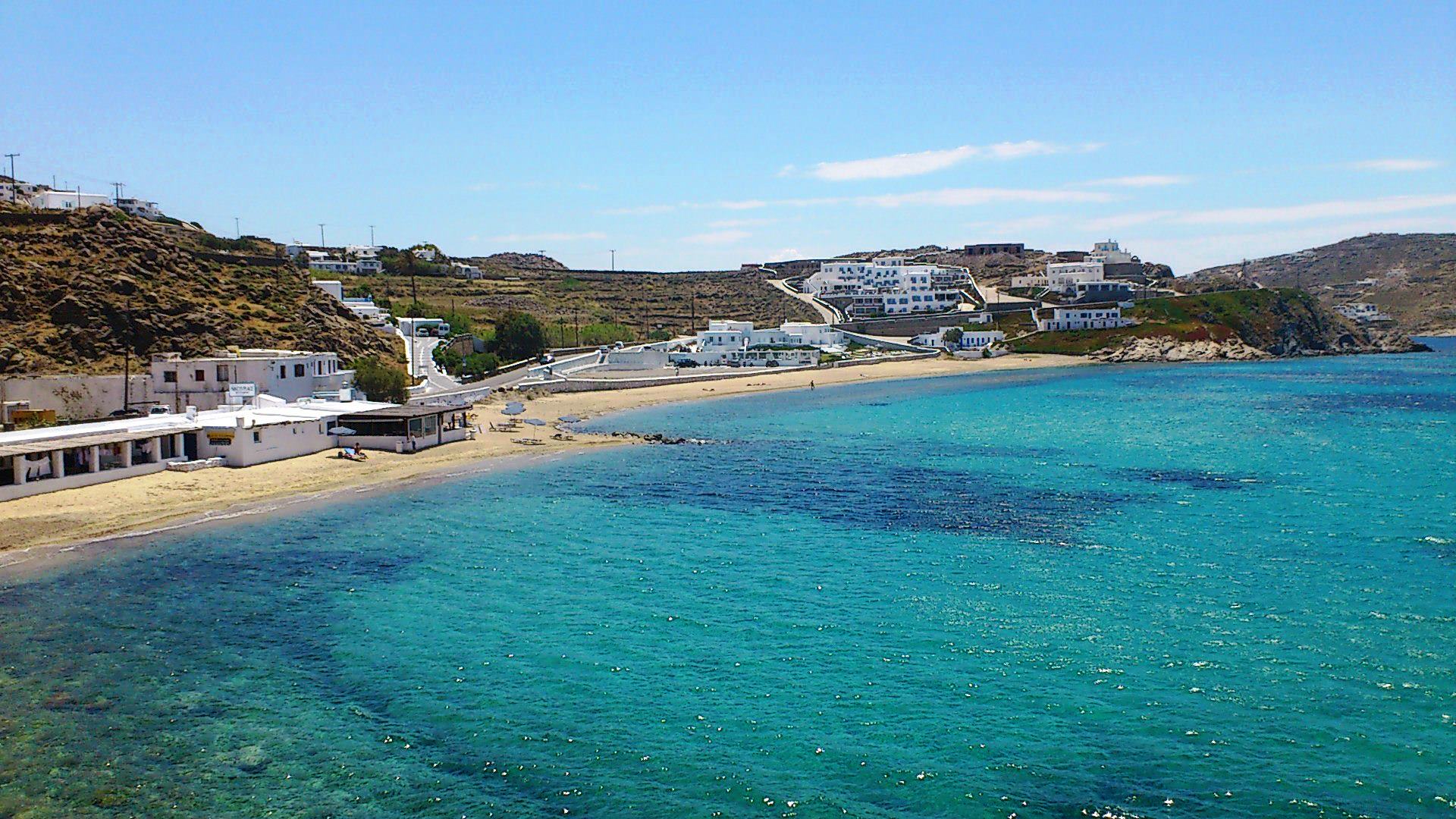 Megali Ammos: the closest to town " Hora"; coarse sand with rocky bits, of interest, particularly if you have only a few hours to spend on Mykonos. Pleasant economical fish tavern at beach entrance.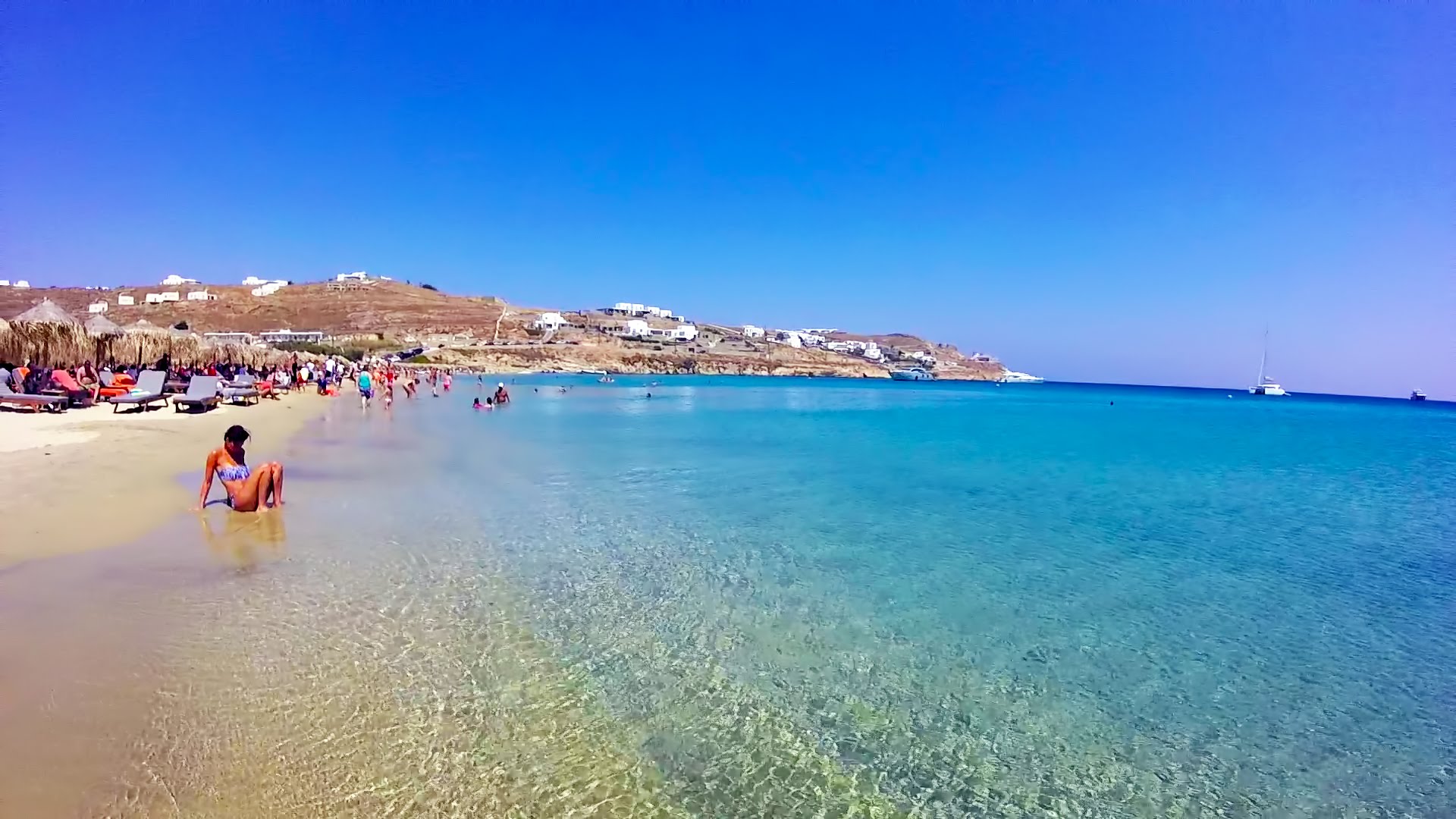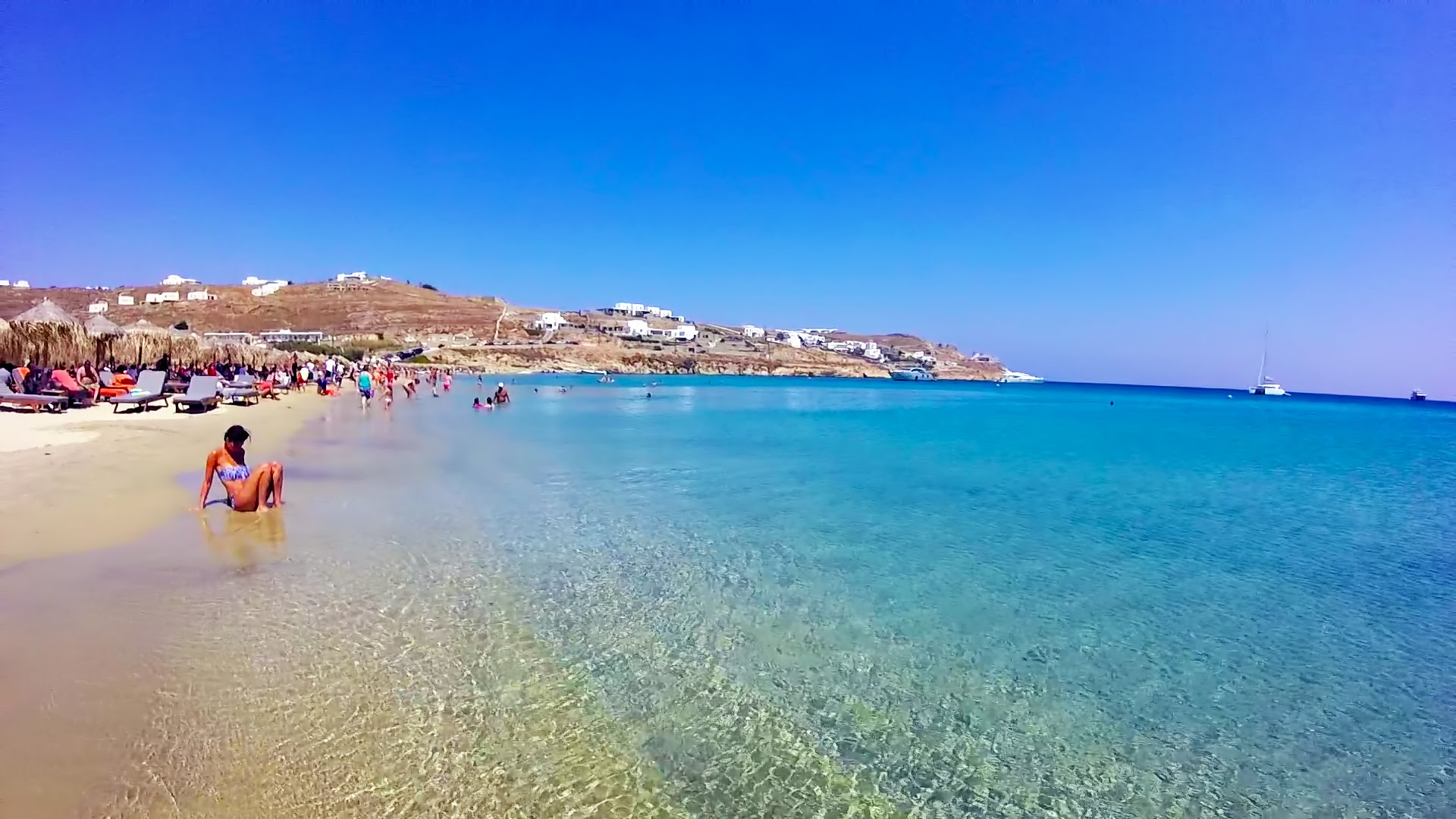 Kalo Livadi: less crowded, calm, large sandy beach, family-oriented beach, with straw umbrellas & sun-beds, just 2 km from Ano Mera Village and 10km from Town. A quiet, long stretch of sandy beach. It offers some taverns with good food, and a few small hotels and villas. Best reached with your own transport, but you can get there by bus. Take the bus to Elia and get off the bus at the top of the hill where it turns to go to Elia Beach and walk about ten minutes downhill to your left.

Super Paradise: (locally called Plintri) magnificent beach with crystal clear blue water in a small, deep bay, quite far with difficult winding road from Town (7km) away).Half the beach is now oriented for the Greek young crowd, and the other half is fully gay with nude bathing permitted, nudists often prefer the rocky paths & coves. Restaurants, beach bars and some hotels. Also very popular with gays, especially the right part (facing the sea). Nudity is quite common. At about 4PM the music wil get really loud; for some time to leave, for others time to party. There is no bus service to Super Paradise, but it is easily accessible with a regular boat service from Platys Gialos (third stop). With you own transport it is a difficult winding road (7km) from Mykonos Town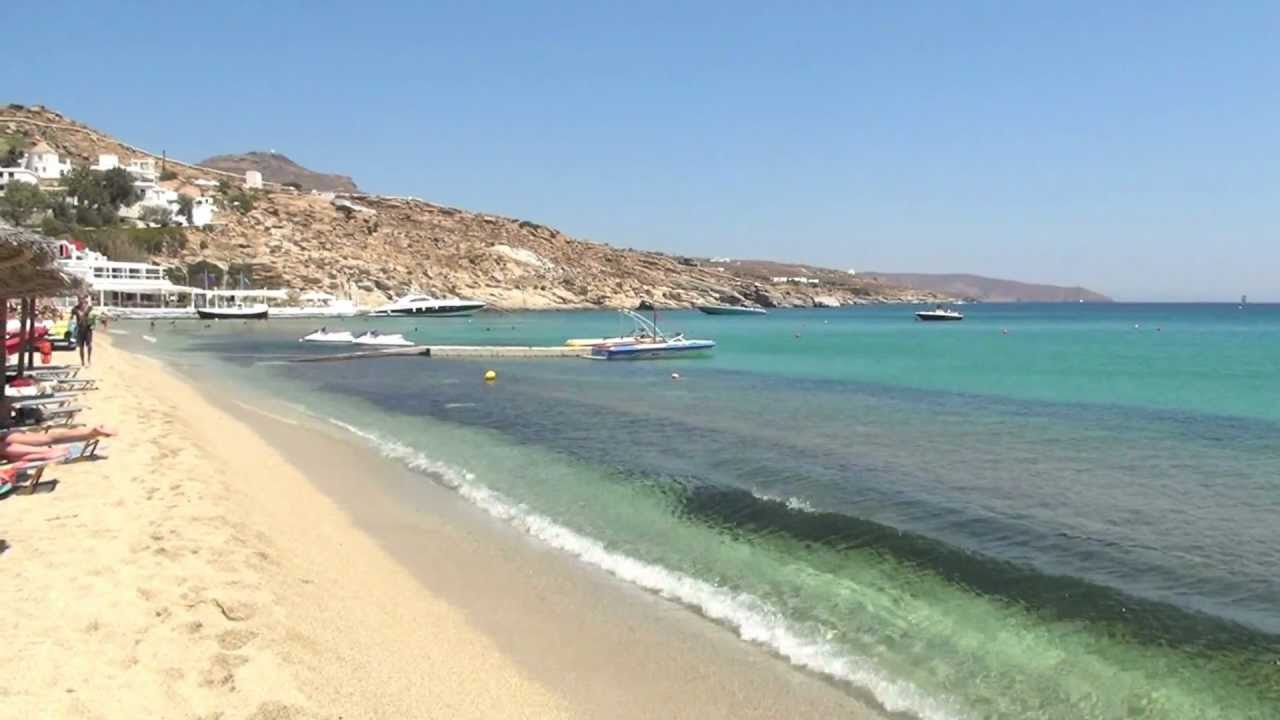 Kalafatis Beach : The sporty one: very large un-crowded sandy beach at the other side of the island: home of surfing & diving school as well as to the active & young public into the Aphrodite Hotel Resort with beach sports & other activities.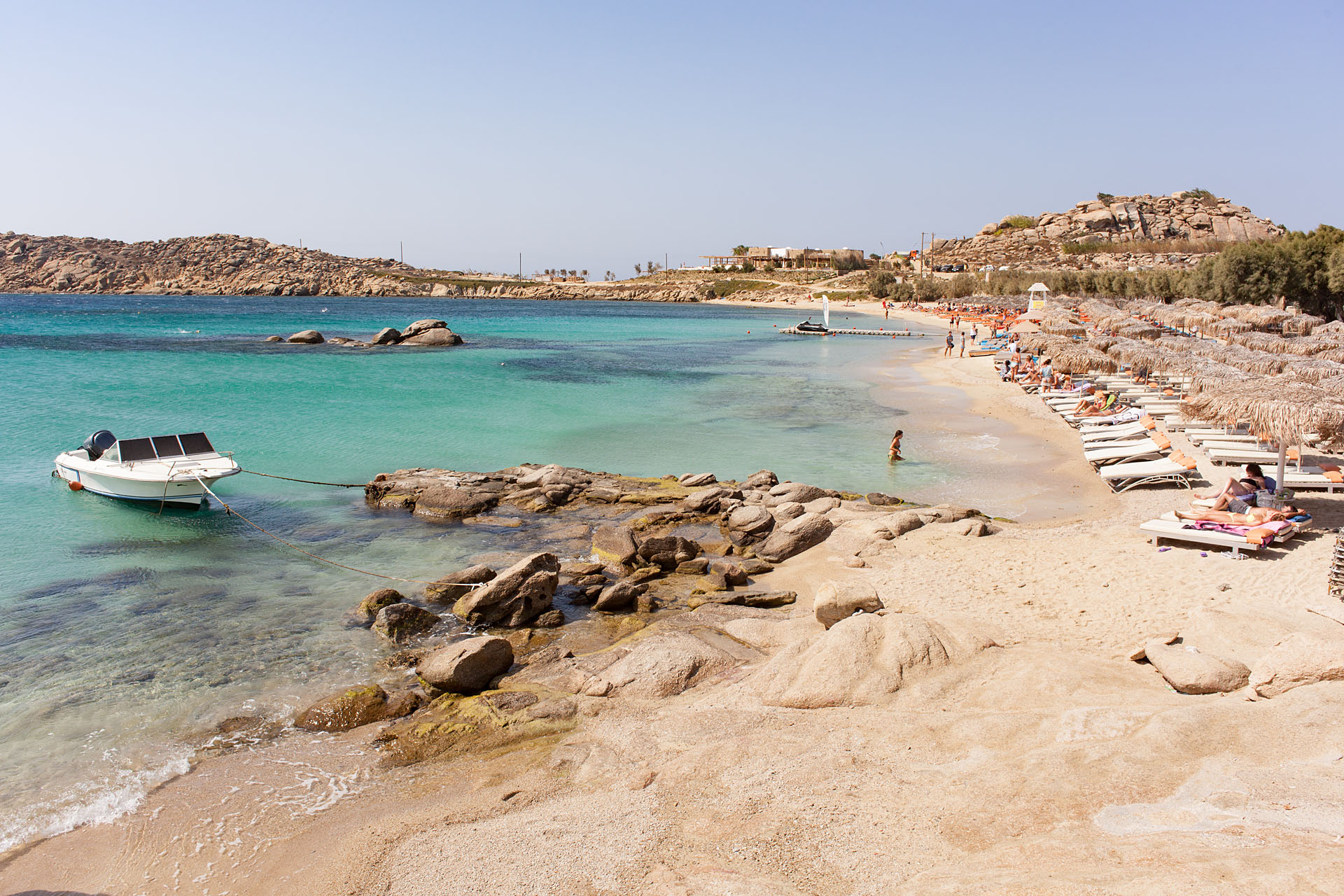 Agia Anna Beach: small sandy beach, quiet at edge of Kalafati Beach, close to peninsula with tiny fishing port. Beautiful landscape, bus transport to Town, 12km away.

Elia: large fine sandy beach with a nice crowd mix of hetero and gay sun worshippers: The organized part has sun beds, umbrellas, waterbeds & various water sports (ski & jet-ski). 3 restaurants and taverns. Far end of the beach has become the most gay beach on Mykonos with nudity the norm especially between the rocks leading to Agrari beach. Last stop of the small boats leaving from central Platis Yialos Beach: there is also a bus service from Mykonos Town (Chora ) 10 km away. Elia is one of the larger beaches on Mykonos. It is a well organized beach with sunbeds and umbrellas, and various water sports (ski and jet-ski). Three restaurants and taverns. Also popular with gays, especially the small rocky beach between Elia and Agari. Nudity is permitted but not as common as at Paradise, Super Paradise and Paranga. Nudity is concentrated at the right and nicest part of the beach (towards Agrari). Elia is most easily reached by a direct local bus from Mykonos Town's northern bus terminal, but also with a regular boat service from Platys Gialos beach (fourth and last stop). Last boat back is at 6PM, but after that time buses are still running.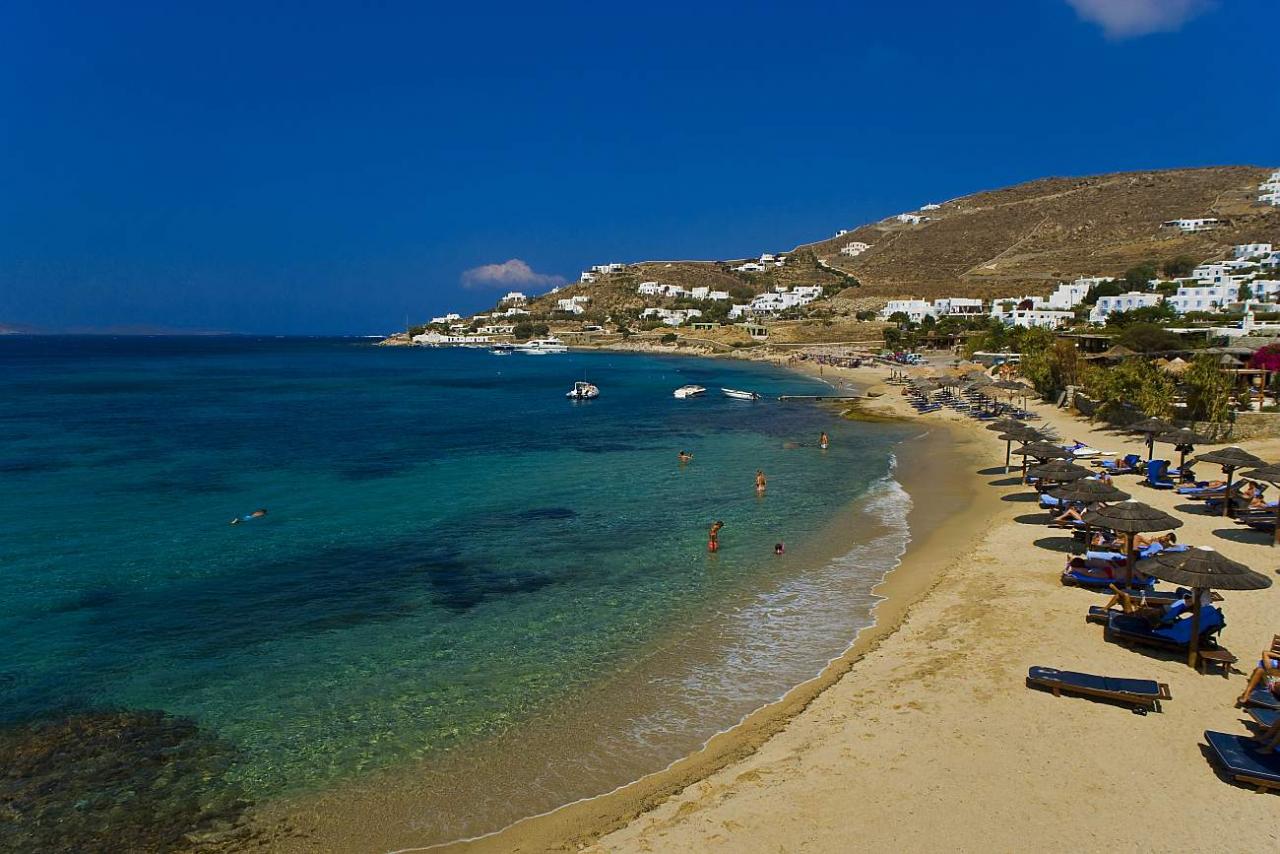 Agios Ioannis: this area is considered one of the most beautiful in south-west Mykonos; clean sea and a narrow band of soft sandy beach,
popular with clients of the 2 nearby deluxe hotels: umbrellas, sun-beds. Two restaurants. Further away: secluded rocks and small coves.
Ag. Ioannis is well known due to the filming there of "Shirley Valentine". Superb view of Delos Island too.


Paradise (Kalamopodi) beautiful beach, mostly a younger crowd. Famous from the hippy years. Big, well organized camping, also bus stop, 5km away from Mykonos Town (Hora).Probably the most popular beach on the island. Camping, self-service restaurant, cafeteria, snack bars, beach bars, mini shops and discos. Nudity is quite common. Paradise Beach is known for its parties. At about 4PM the music wil get really loud. Paradise is easily reached by bus from Mykonos town or with a regular boat service from Platys Gialos (second stop).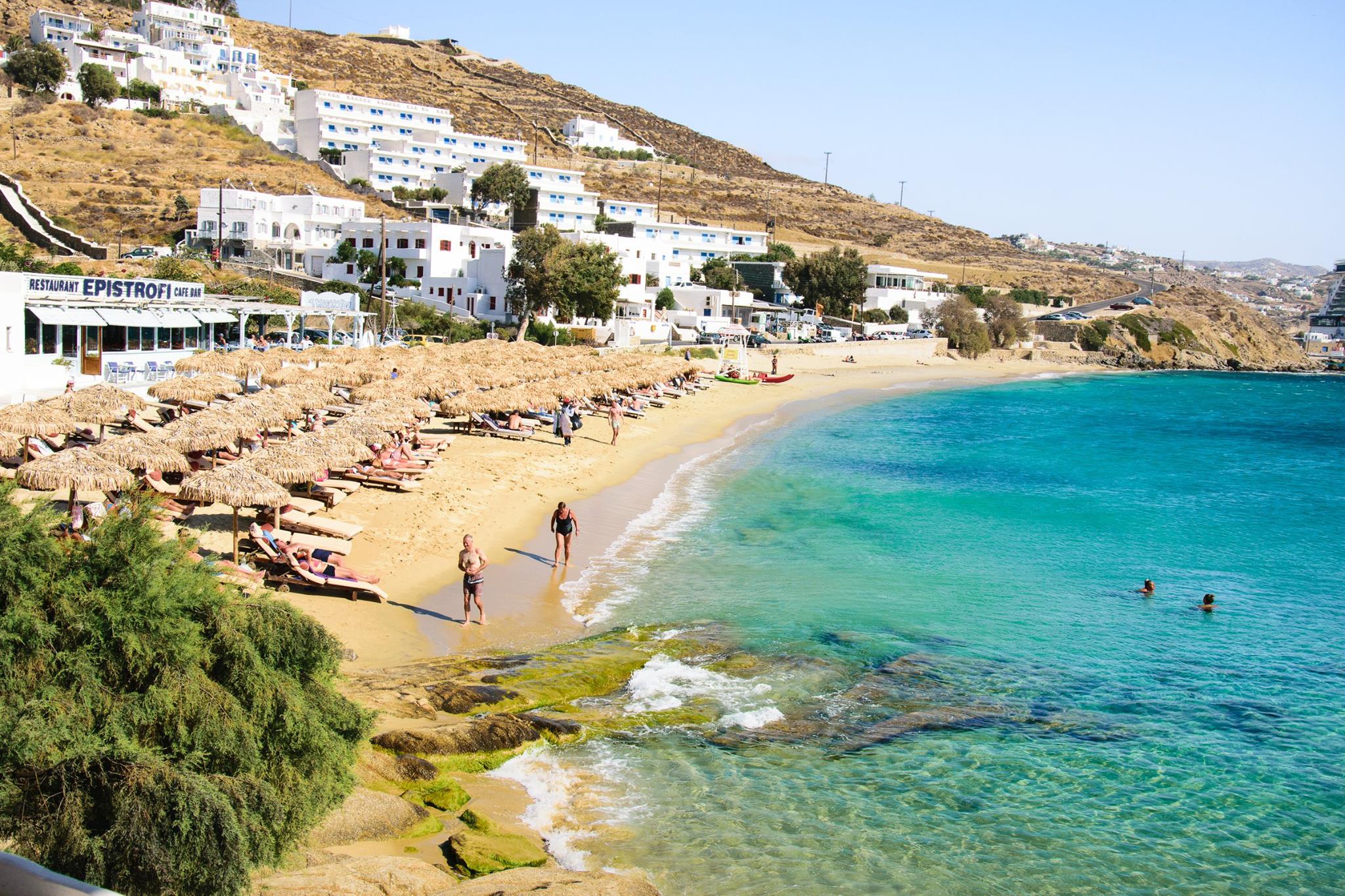 Agios Stefanos: the windless sandy beach of Ag. Stefanos is 1 km further on from Tourlos and the NEW port: has a variety of good services for swimmers, and sea sport facilities... sea skiing, surfing, jet skiing etc. Caters mainly for tourists staying at nearby hotels. A well developed, sandy beach next to the new harbor. Agios Stefanos is very popular and gets very crowded during summer time. This beach is about the length of a soccer pitch. Agios Stefanos is reachable by bus from Mykonos town.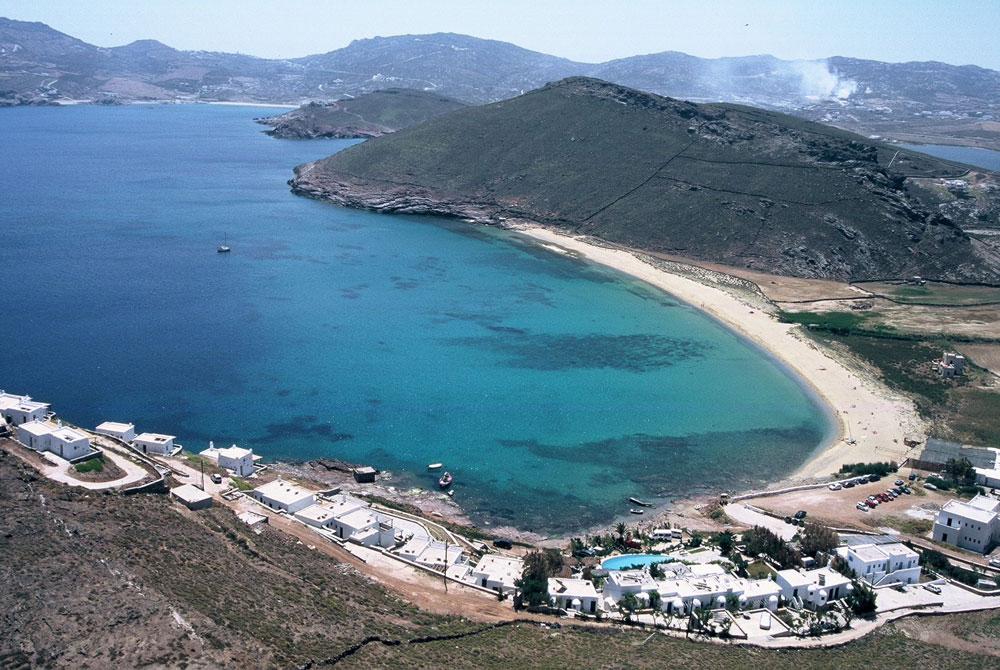 Panormos : a more isolated un-crowded large sandy beach situated at the northern part of the island, with a mix of people. Not an organized beach, nudism still allowed but more popular since opening of a trendy beach club. Own transportation recommended. On the north side of the island and facing east onto Panormos Bay is the long and beautiful Panormos Beach. Two restaurants, one hotel and a trendy beach club serve this otherwise remote area. Panormos Beach is nudist beach mostly in the right side. To get to Panormos you need your own transport.

Agios Sostis: the more chic sandy beach in this part of the island: not an organized beach but with 2 well catered restaurants. A difficult road 2km further from Panormos. This beach faces the east of Panormos Bay. Agios Sostis is one of the more remote beaches on the island. Void of accommodation and crowds this beautiful beach offers not only peace and quiet, but also a very good small restaurant. Nude bathing tolerant. To get there you need your own transport. Take the road beyond Panormos beach.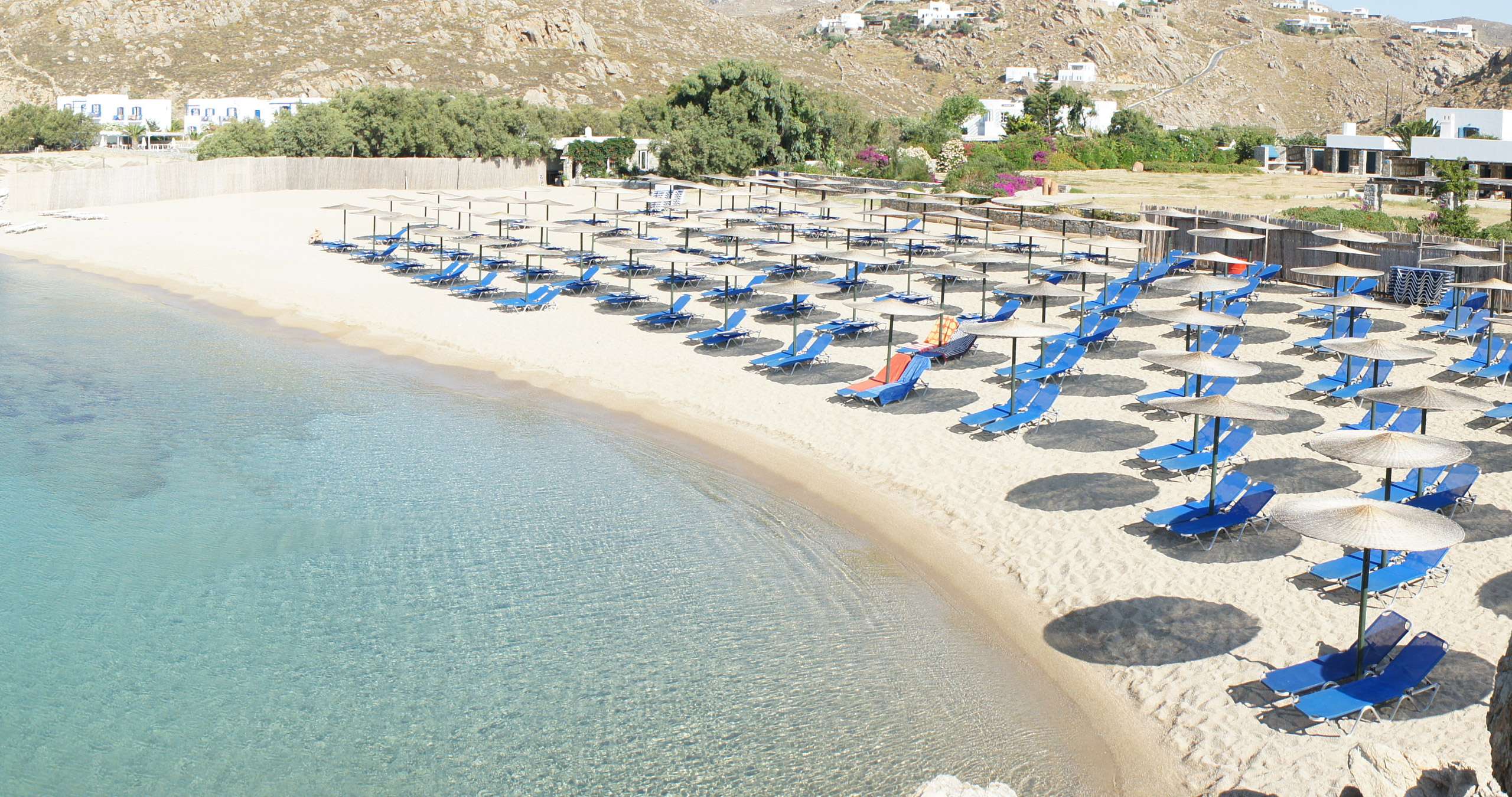 Agrari: one of more secluded, cute smaller sandy beach only a 5 min. walk away than from Elia. Not so crowded. (you can get here also by caique from Platis Yialos). Well organized with sun-beds, umbrellas, many water-sports. You need own transport: a quite difficult 8km road from Mykonos Town. Agrari Beach is less popular than its neighbour Elia and much calmer. Well organized with sunbeds and umbrellas, with many watersports. If there are enough passengers, the boats from Platys Gialos will make a stop at Agrari. Otherwise, it is an easy 5 minutes walk over the rocks from Elia Beach. With you own transport it is a quite difficult 8km road from Mykonos Town.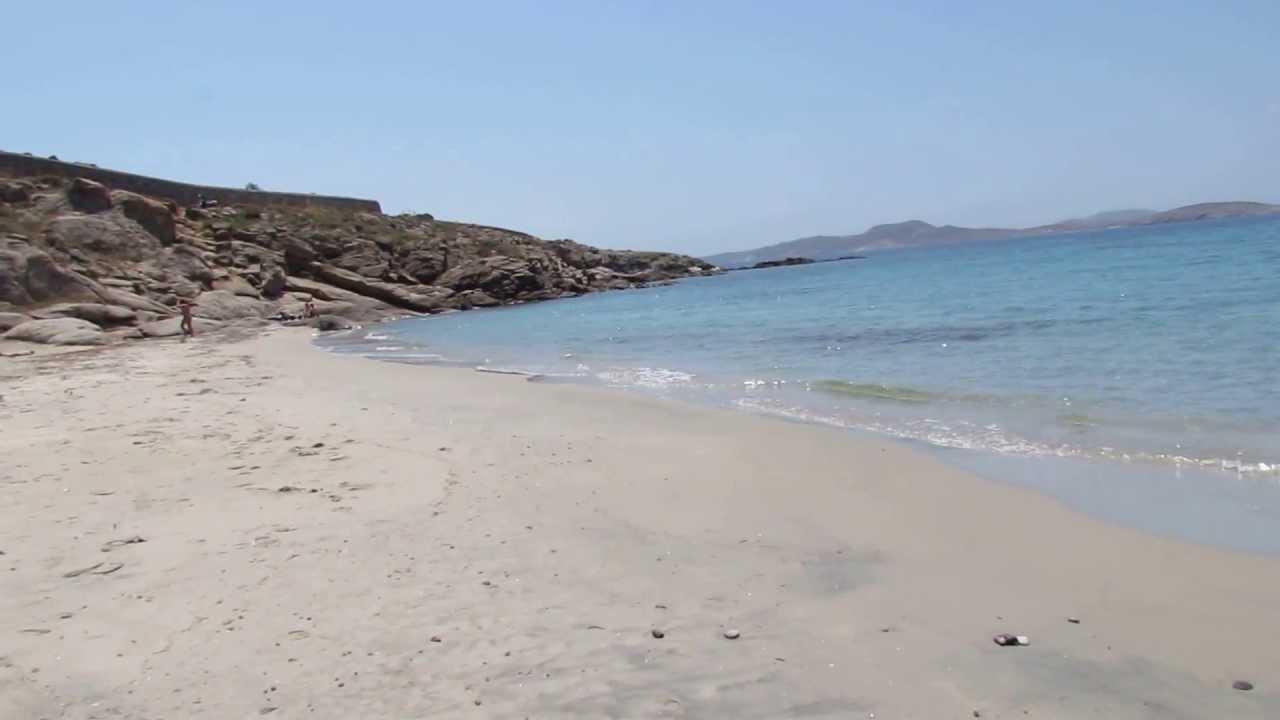 Kapari: not so calm and hidden anymore behind Agios Ioannis chapel: no shade or eating facilities. 5km from Hora by car + steep downhill walk.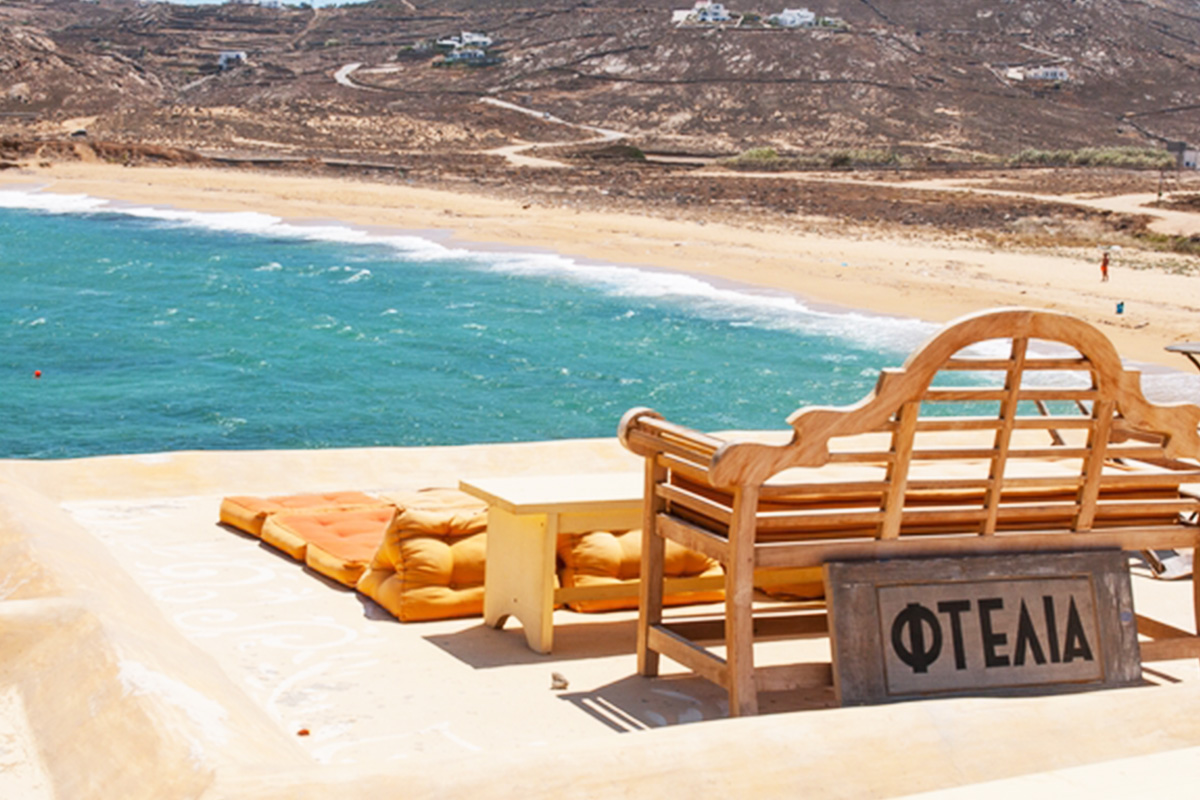 Ftelia: a large undeveloped sandy beach: breeze blows year round: one of the best international windsurfer fan bays and beaches in the whole of Greece. Now with 2 taverns near-by.

Lia: the beach, almost furthest away (14 km away from the town, car recommended). Perfect for more solitary, peace-loving types. Coarse sand, relaxed atmosphere, some umbrellas & sun beds. Has a fish tavern and large coffee-shop.. An uncrowded, sandy beach. Some tiny houses of fishermen from a little settlement, with only a small fish tavern. To get there you need your own transport or you can walk from Kalafati.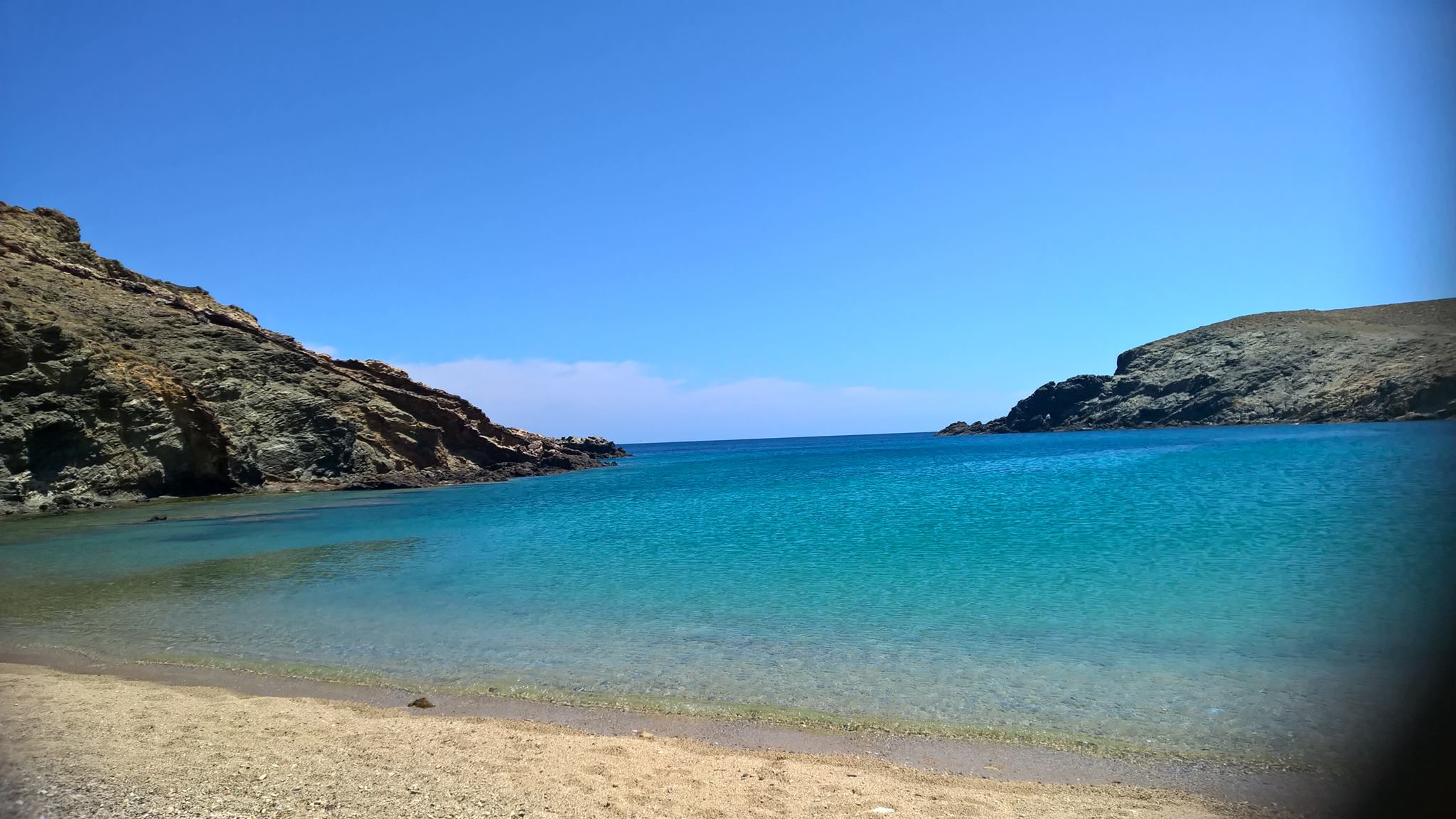 Fokos: discovered only a few years ago: striking natural scenery, facing north, still few people but local tavern, with good fresh typical Greek appetizers & barbecue. Need own car: 11km from Mykonos Chora.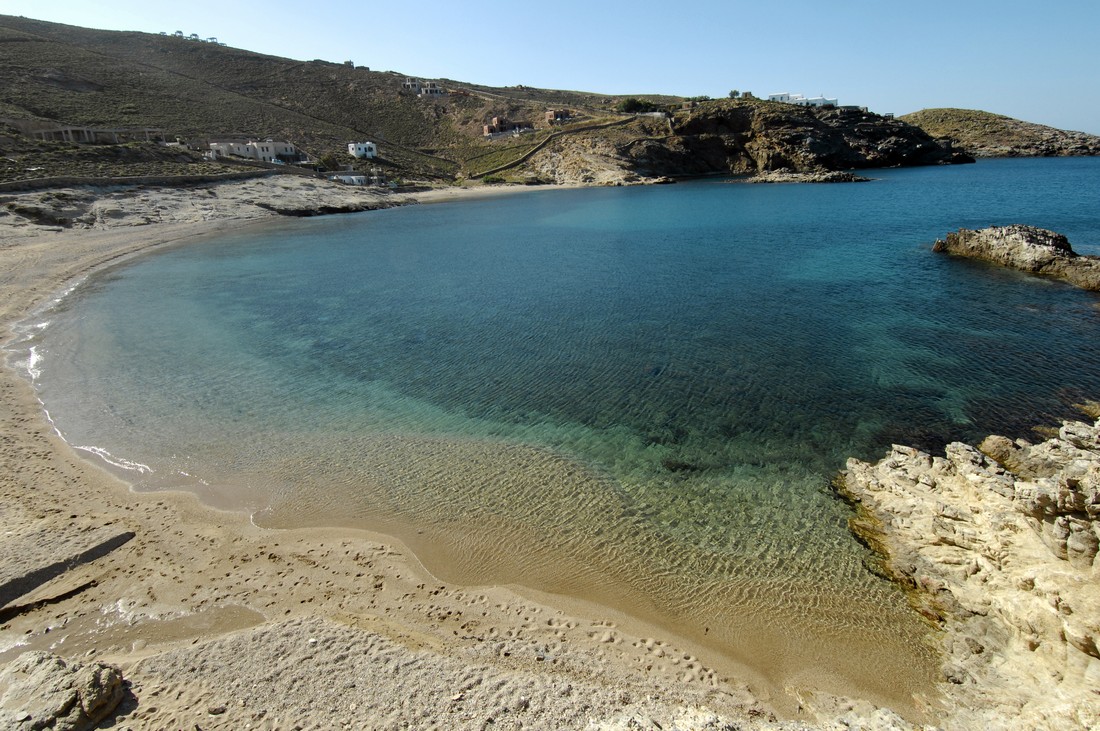 Mersini: over the hill from Fokos: even more isolated: not too difficult road.